Zakony ulitc

release date

The director of this series, Rustam Urazayev, is known to the audience for the crime series "Sled" ("Trace"), where he made his debut as the director of several episodes.

Their typical day starts with a meeting in the police department, and no one knows when and where it will end, even approximately. Only in rare cases do they take a well-deserved rest at the usual time of 6 p.m. for office workers. This happens on those rare days when there are no serious crimes in the area to which their department is attached. Unfortunately, serious crimes happen quite often, and the four brilliant operatives rush to the scene. Lightning-fast action is required here, while the criminals can still be apprehended red-handed. Often, crimes that are not solved within the first day remain unsolved for a very long time. The employees of Police Department No. 3 know this very well. In it, the brave operatives Steshin, Bogun, Osipov, and Makarkin fight a fierce battle against the criminal world. They are ordinary people who are familiar with the sense of fear and strong fatigue, but they are used to overcoming all difficulties, knowing the responsible mission entrusted to them. They stand up for the protection of property and the lives of ordinary people.
Release date of

Zakony ulitc

TV Series
New episodes of the «Zakony ulitc» series aired on weekdays 19:40 on «NTV» channel. The specified air time corresponds to the country - Russia. Eastern Daylight Time, the episode will be available same day.
Zakony ulitc Season

1

- 24 Episodes

| Episode Number | Episode Name | | Release Date |
| --- | --- | --- | --- |
| 01x24 | Season 1 Episode 24 | | 20.05.2016 |
| 01x23 | Season 1 Episode 23 | | 19.05.2016 |
| 01x22 | Season 1 Episode 22 | | 18.05.2016 |
| 01x21 | Season 1 Episode 21 | | 17.05.2016 |
| 01x20 | Season 1 Episode 20 | | 16.05.2016 |
| 01x19 | Season 1 Episode 19 | | 16.05.2016 |
| 01x18 | Season 1 Episode 18 | | 15.05.2016 |
| 01x17 | Season 1 Episode 17 | | 14.05.2016 |
| 01x16 | Season 1 Episode 16 | | 13.05.2016 |
| 01x15 | Season 1 Episode 15 | | 12.05.2016 |
| 01x14 | Season 1 Episode 14 | | 11.05.2016 |
| 01x13 | Season 1 Episode 13 | | 10.05.2016 |
| 01x12 | Season 1 Episode 12 | | 06.05.2016 |
| 01x11 | Season 1 Episode 11 | | 06.05.2016 |
| 01x10 | Season 1 Episode 10 | | 06.05.2016 |
| 01x09 | Season 1 Episode 9 | | 06.05.2016 |
| 01x08 | Season 1 Episode 8 | | 05.05.2016 |
| 01x07 | Season 1 Episode 7 | | 05.05.2016 |
| 01x06 | Season 1 Episode 6 | | 05.05.2016 |
| 01x05 | Season 1 Episode 5 | | 05.05.2016 |
| 01x04 | Season 1 Episode 4 | | 04.05.2016 |
| 01x03 | Season 1 Episode 3 | | 04.05.2016 |
| 01x02 | Season 1 Episode 2 | | 04.05.2016 |
| 01x01 | Season 1 Episode 1 | | 04.05.2016 |
Zakony ulitc TV Series trailer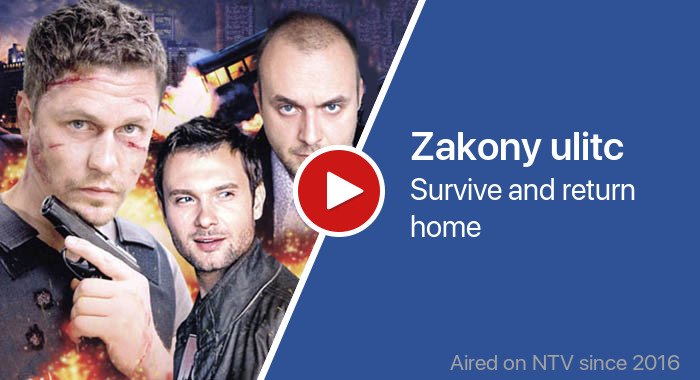 Post discussion
Comments are closed, but will be back soon