Vlasik Ten Stalina

release date

Russian historical drama of 2017. The director of the multi-part film was Alexey Muradov. The producer was the famous host of Channel One, Alexey Pimanov. The main role of Joseph Stalin was played by Levan Mskhiladze. Olga Pogodina, Ivan Kokorin, Julia Melnikova, and Konstantin Milovanov also took part in the project. The premiere took place immediately after the anniversary of the Victory in the war on May 10.

The film tells the story of Joseph Stalin's chief security officer. The image of the dictator was examined by filmmakers from many angles. However, those who stood behind the greatness of his personality were rarely portrayed in the movies. But Joseph Vissarionovich's life could have been cut short several times if it weren't for the work of his dedicated bodyguard, Nikolai Vlasik. A regular country boy by fate found himself being the closest person to the Leader. He witnessed the most secret and unknown moments of the Generalísimo's life. But it was not just a job leading the security detachment. Nikolai became a real cornerstone for Joseph, a peculiar confidant. However, life arranged it in such a way that Vlasik himself became a target for his boss. After the death of his wife, Nikolai falls into the tangle of Stalinist intrigues, after which he becomes a victim of repression.
Release date of

Vlasik Ten Stalina

TV Series
New episodes of the «Vlasik Ten Stalina» series aired on weekdays 21:35 on «Pervyi kanal» channel. The specified air time corresponds to the country - Russia. Eastern Daylight Time, the episode will be available same day.
Vlasik Ten Stalina Season

1

- 14 Episodes

| Episode Number | Episode Name | | Release Date |
| --- | --- | --- | --- |
| 01x14 | Season 1 Episode 14 | | 18.05.2017 |
| 01x13 | Season 1 Episode 13 | | 18.05.2017 |
| 01x12 | Season 1 Episode 12 | | 17.05.2017 |
| 01x11 | Season 1 Episode 11 | | 17.05.2017 |
| 01x10 | Season 1 Episode 10 | | 16.05.2017 |
| 01x09 | Season 1 Episode 9 | | 16.05.2017 |
| 01x08 | Season 1 Episode 8 | | 15.05.2017 |
| 01x07 | Season 1 Episode 7 | | 15.05.2017 |
| 01x06 | Season 1 Episode 6 | | 12.05.2017 |
| 01x05 | Season 1 Episode 5 | | 12.05.2017 |
| 01x04 | Season 1 Episode 4 | | 11.05.2017 |
| 01x03 | Season 1 Episode 3 | | 11.05.2017 |
| 01x02 | Season 1 Episode 2 | | 10.05.2017 |
| 01x01 | Season 1 Episode 1 | | 10.05.2017 |
Vlasik Ten Stalina TV Series trailer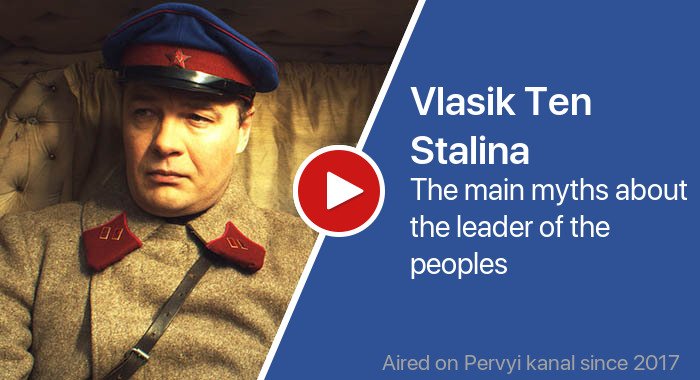 Post discussion
Comments are closed, but will be back soon