Volnaia gramota

release date

Russian historical drama series. The premiere of the first season is scheduled for 2018. The film was directed by Dmitry Cherkasov. The main roles were played by Tatiana Babenkova and Artem Krylov.

The main heroine of the series is Polina Lebedeva. The favorite of Prince Golovin knew no worries and always lived under the wing of a powerful ruler. But after his death, the fate of the girl changed dramatically in the opposite direction. Golovin's fiercest enemy, Kretchetsky, now buys up all the property of his rival. Polina also goes to the auction, as if an item for sale. Now she has become a slave to Andrey - completely under his command. The corrupt and greedy count has bought up all possible property and now revels in his power. Lack of freedom has become a serious psychological trauma for Lebedeva. However, after her appearance in his palace, Kretchetsky changed somewhat. Now he doesn't thirst for power and doesn't try to earn as much wealth as possible. The gentle and tender Polina conquered his heart. At first, he tried to show himself as a mighty dictator and suppress the poor girl. But after some time, his heart began to melt. The favorite of his enemy seemed to enchant the young man. Romantic relationships develop between them. What will the love of the count and the ordinary girl lead to?
Release date of

Volnaia gramota

TV Series
New episodes of the «Volnaia gramota» series aired on weekdays 21:35 on «Pervyi kanal» channel. The specified air time corresponds to the country - Russia. Eastern Daylight Time, the episode will be available same day.
Volnaia gramota Season

1

- 18 Episodes

| Episode Number | Episode Name | | Release Date |
| --- | --- | --- | --- |
| 01x18 | Season 1 Episode 18 | | 02.03.2018 |
| 01x17 | Season 1 Episode 17 | | 02.03.2018 |
| 01x16 | Season 1 Episode 16 | | 02.03.2018 |
| 01x15 | Season 1 Episode 15 | | 01.03.2018 |
| 01x14 | Season 1 Episode 14 | | 01.03.2018 |
| 01x13 | Season 1 Episode 13 | | 01.03.2018 |
| 01x12 | Season 1 Episode 12 | | 28.02.2018 |
| 01x11 | Season 1 Episode 11 | | 28.02.2018 |
| 01x10 | Season 1 Episode 10 | | 27.02.2018 |
| 01x09 | Season 1 Episode 9 | | 27.02.2018 |
| 01x08 | Season 1 Episode 8 | | 26.02.2018 |
| 01x07 | Season 1 Episode 7 | | 26.02.2018 |
| 01x06 | Season 1 Episode 6 | | 21.02.2018 |
| 01x05 | Season 1 Episode 5 | | 21.02.2018 |
| 01x04 | Season 1 Episode 4 | | 20.02.2018 |
| 01x03 | Season 1 Episode 3 | | 20.02.2018 |
| 01x02 | Season 1 Episode 2 | | 19.02.2018 |
| 01x01 | Season 1 Episode 1 | | 19.02.2018 |
Volnaia gramota TV Series trailer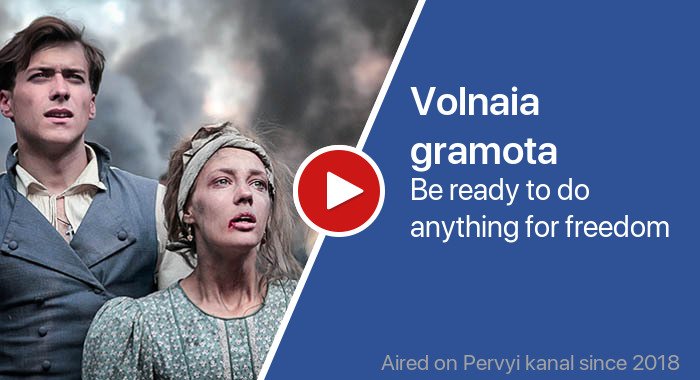 Post discussion
Comments are closed, but will be back soon