Akvatoriia

release date

The domestic series, the premiere of which took place at the end of May 2017. The film was directed by Vladimir Koifman. Starring Vladimir Petrov and Anastasia Burmistrova.

The series tells about the weekdays of the so-called FES. The special department is engaged in investigating cases in the maritime space. The unit is created based on the land-based "Trace". Service agents investigate particularly dangerous crimes committed in the waters of St. Petersburg. They have the most modern equipment at their disposal - sonar, motion sensors, scanners. The head of the department is Victoria Korobeynikova. She is characterized by fairness and strictness towards subordinates. In addition, at home, she is a caring mother and loving wife. The service includes agents Morozov, Captain Panteleev. Also in the service is Ushakov - a retired major of the navy, who serves on a submarine. The head of the laboratory is Lieutenant Moiseev. The rivers Neva, Fontanka, Moika, and the Gulf of Finland are under the supervision of the organization. If criminals assumed that they could escape justice by water, they were mistaken. After all, guarding the water surface is the FES department with excellent specialists who will not let the most inventive villain escape.
Release date of

Akvatoriia

TV Series
New episodes of the «Akvatoriia» series aired every Monday 22:25 on «Piatyi kanal» channel. The specified air time corresponds to the country - Russia. Eastern Daylight Time, the episode will be available same day.
Akvatoriia Season

1

- 40 Episodes

| Episode Number | Episode Name | | Release Date |
| --- | --- | --- | --- |
| 01x40 | Season 1 Episode 40 - Русалочье озеро | | 29.06.2017 |
| 01x39 | Season 1 Episode 39 - Дневник убийцы | | 29.06.2017 |
| 01x38 | Season 1 Episode 38 - Умри вчера | | 29.06.2017 |
| 01x37 | Season 1 Episode 37 - Моряк сошёл на берег | | 29.06.2017 |
| 01x36 | Season 1 Episode 36 - Ведьма | | 28.06.2017 |
| 01x35 | Season 1 Episode 35 - Красиво жить не запретишь | | 28.06.2017 |
| 01x34 | Season 1 Episode 34 - Сладкая жизнь | | 27.06.2017 |
| 01x33 | Season 1 Episode 33 - Ничего личного | | 27.06.2017 |
| 01x32 | Season 1 Episode 32 - Верные друзья | | 26.06.2017 |
| 01x31 | Season 1 Episode 31 - Компромат | | 26.06.2017 |
| 01x30 | Season 1 Episode 30 - Шикарный вечер | | 22.06.2017 |
| 01x29 | Season 1 Episode 29 - Пустое место | | 22.06.2017 |
| 01x28 | Season 1 Episode 28 - Медовый месяц | | 21.06.2017 |
| 01x27 | Season 1 Episode 27 - Омут | | 21.06.2017 |
| 01x26 | Season 1 Episode 26 - Ветер перемен | | 20.06.2017 |
| 01x25 | Season 1 Episode 25 - Призрак | | 20.06.2017 |
| 01x24 | Season 1 Episode 24 - Концы в воду | | 19.06.2017 |
| 01x23 | Season 1 Episode 23 - Пропавшая невеста | | 19.06.2017 |
| 01x22 | Season 1 Episode 22 - Как в воду канул | | 15.06.2017 |
| 01x21 | Season 1 Episode 21 - Утиная охота | | 15.06.2017 |
| 01x20 | Season 1 Episode 20 - Правильное решение | | 14.06.2017 |
| 01x19 | Season 1 Episode 19 - Смерть под парусом | | 14.06.2017 |
| 01x18 | Season 1 Episode 18 - Любовь зла | | 13.06.2017 |
| 01x17 | Season 1 Episode 17 - Экологи | | 13.06.2017 |
| 01x16 | Season 1 Episode 16 - Метр квадратный | | 08.06.2017 |
| 01x15 | Season 1 Episode 15 - Утопленник | | 08.06.2017 |
| 01x14 | Season 1 Episode 14 - Долг платежом красен | | 07.06.2017 |
| 01x13 | Season 1 Episode 13 - Смерть на озере | | 07.06.2017 |
| 01x12 | Season 1 Episode 12 - Большая рыба | | 06.06.2017 |
| 01x11 | Season 1 Episode 11 - Семейные страсти | | 06.06.2017 |
| 01x10 | Season 1 Episode 10 - Подводная охота на человека | | 05.06.2017 |
| 01x09 | Season 1 Episode 9 - Кукушонок | | 05.06.2017 |
| 01x08 | Season 1 Episode 8 - Порт | | 01.06.2017 |
| 01x07 | Season 1 Episode 7 - Всё или ничего | | 01.06.2017 |
| 01x06 | Season 1 Episode 6 - Дуэль | | 31.05.2017 |
| 01x05 | Season 1 Episode 5 - Единственный вариант | | 31.05.2017 |
| 01x04 | Season 1 Episode 4 - Остров смерти | | 30.05.2017 |
| 01x03 | Season 1 Episode 3 - Проклятие Ундины | | 30.05.2017 |
| 01x02 | Season 1 Episode 2 - Морской царь | | 29.05.2017 |
| 01x01 | Season 1 Episode 1 - Царевна-лягушка | | 29.05.2017 |
Akvatoriia TV Series trailer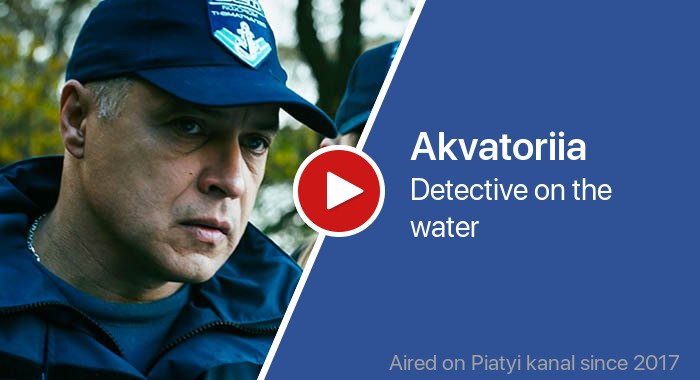 Post discussion
Comments are closed, but will be back soon