Vse vozrasty liubvi

release date

A Russian melodramatic TV series by director Alexander Muratov. The well-known actress Yekaterina Guseva also participated in the project. The film also starred Philipp Bledny and Yevgeniya Dobrovolskaya. The production was managed by the "Favorite Film" studio.

The series presents the audience with the story of three people of different ages. And although they all pursue their own professions, their fates intersect. Each character has had an unsuccessful romantic experience in the past. But life gives them a second chance. The main thing this time is to take advantage of their opportunity. One of the series' characters is Makovtsev. He is the chief manager of a large company. The wealthy man is raising a daughter, and he develops a romance with her nanny. They are heading towards a wedding, but it turns out that the girl has an enterprising boyfriend. They both want to appropriate the generous employer's fortune for themselves. Makovtsev himself is divorced. His ex-wife is in her forties and no longer sees any personal life. But unexpectedly for herself, she falls in love with a guy who is almost 15 years younger than her. Her close relatives are not very happy with the woman's choice and consider it nothing more than a fickle infatuation. The chosen one, named Igor, also wants to make his own destiny with an older woman. He is tired of his relationship with a reckless peer, but she doesn't let him go without a fight, literally.
Release date of

Vse vozrasty liubvi

TV Series
New episodes of the «Vse vozrasty liubvi» series aired every Tuesday 12:00 on «Pervyi kanal» channel. The specified air time corresponds to the country - Russia. Eastern Daylight Time, the episode will be available same day.
Vse vozrasty liubvi Season

1

- 8 Episodes

| Episode Number | Episode Name | | Release Date |
| --- | --- | --- | --- |
| 01x08 | Season 1 Episode 8 - 8 | | 09.10.2018 |
| 01x07 | Season 1 Episode 7 - 7 | | 09.10.2018 |
| 01x06 | Season 1 Episode 6 - 6 | | 09.10.2018 |
| 01x05 | Season 1 Episode 5 - 5 | | 09.10.2018 |
| 01x04 | Season 1 Episode 4 - 4 | | 09.10.2018 |
| 01x03 | Season 1 Episode 3 - 3 | | 09.10.2018 |
| 01x02 | Season 1 Episode 2 - 2 | | 09.10.2018 |
| 01x01 | Season 1 Episode 1 - 1 | | 09.10.2018 |
Vse vozrasty liubvi TV Series trailer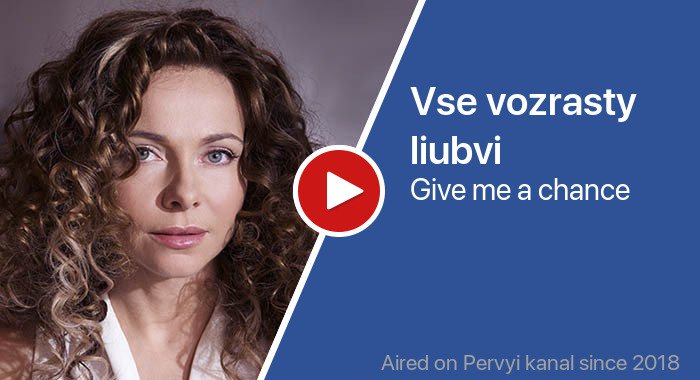 Post discussion
Comments are closed, but will be back soon