Wasted

release date

"Wasted" is a comedy series directed by Tom Marshall, the first episode of which premiered on July 26, 2016. This youth series is not for everyone. It is recommended for those who enjoy refined British humor, slightly crude jokes, and explicit language.

Youthful lad Kent is forced to return to his provincial town after being thrown out of his DJ position with a scandal. Upon his return, he immediately found his friends, who regularly gathered to party at a local tattoo parlor. His past love, Sarah, was also there. Sarah dreams of living far away in India, but lacks the financial means to leave. Kent suggested to his friends that they start dealing drugs in order to have the opportunity to realize all their dreams. The friends had various and diverse plans for a bright future, but all required a certain amount of money. Without much thought, they all agreed. They started taking drugs themselves every day and couldn't even imagine their current lives without drugs. They gathered in their favorite parlor, joked, smoked, and talked about many things. Dreams, an extraordinary future. They argued, made up, and went for another dose of drugs. Overall, they were not the worst guys, just foolishly unaware that they wouldn't be able to fulfill even a fraction of their desires with drugs. And they didn't really need to anymore - meeting with friends and discussing life was enough for them.
Release date of

Wasted

TV Series
New episodes of the «Wasted» series aired every Tuesday 22:00 on «E4» channel. The specified air time corresponds to the country - United Kingdom. Eastern Daylight Time, the episode will be available same day.
Wasted Season

2

- 1 Episode

Episode Number

Episode Name
Release Date
02x01

Season 2 Episode 1

26.07.2018
This season was aired

on Thursday, July 26 at 22:00
Wasted Season

1

- 6 Episodes

| Episode Number | Episode Name | | Release Date |
| --- | --- | --- | --- |
| 01x06 | Season 1 Episode 6 - Sex Party | | 23.08.2016 |
| 01x05 | Season 1 Episode 5 - Come Down Day | | 16.08.2016 |
| 01x04 | Season 1 Episode 4 - The Berryman | | 09.08.2016 |
| 01x03 | Season 1 Episode 3 - The Other Pub | | 02.08.2016 |
| 01x02 | Season 1 Episode 2 - The Odyssey | | 26.07.2016 |
| 01x01 | Season 1 Episode 1 - Nineties Pills | | 26.07.2016 |
Wasted TV Series trailer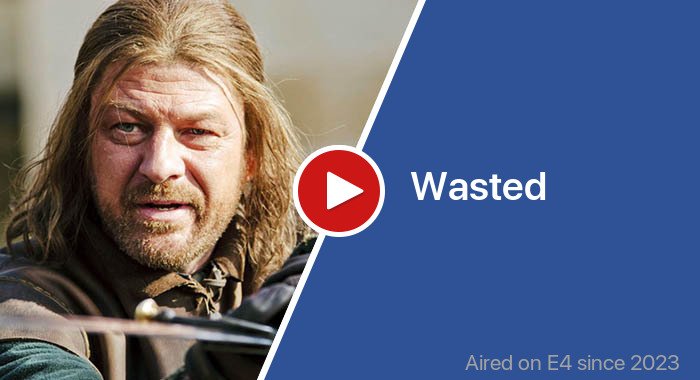 News about

Wasted

tv series
The TV series "Wasted" from the E4 television company will likely have a second season no earlier than the end of 2017. The thing is, there hasn't been an official announcement yet, but the show was warmly received by viewers, with some even calling it one of the most "lit" comedies.
Post discussion
Comments are closed, but will be back soon