Wild Wild Country

release date

The documentary project is a true story about the construction and destruction of a city with the wonderful name of Rajneeshpuram. It is told by eyewitnesses of the events.

The action takes place in the Oregon desert, on the territory where stubborn citizens made desperate attempts to build a giant settlement. These attempts were made by followers of Osho. Of course, they did not expect that their intentions would lead to a serious dispute with the local residents. The desperate heroes fought for their rights and knew that they could achieve justice. The allies were united by common traits. Many of the allies were intellectually educated, wealthy, and bright individuals who knew how to stand up for their loved ones. The participants of the movement found themselves in a difficult situation, but they tried to resolve the emerging problems peacefully. The local population did not want to quietly observe how their newly acquired neighbors displayed their sexual life and did not hesitate to show their character. One of the heroines becomes an enterprising lady who worked as a secretary. In fact, it was this woman who managed the sannyasins. She always helped the members of the mysterious organization and was ready to be accountable to the government for their activities. The fearless person was not afraid of imprisonment and persecution from a large number of ill-wishers.
Release date of

Wild Wild Country

TV Series
New episodes of the «Wild Wild Country» series aired on Fridays 12:00 on «Netflix» channel. The specified air time corresponds to the country - USA. Eastern Daylight Time, the episode will be available same day.
Wild Wild Country Season

1

- 6 Episodes

| Episode Number | Episode Name | | Release Date |
| --- | --- | --- | --- |
| 01x06 | Season 1 Episode 6 - Part 6 | | 16.03.2018 |
| 01x05 | Season 1 Episode 5 - Part 5 | | 16.03.2018 |
| 01x04 | Season 1 Episode 4 - Part 4 | | 16.03.2018 |
| 01x03 | Season 1 Episode 3 - Part 3 | | 16.03.2018 |
| 01x02 | Season 1 Episode 2 - Part 2 | | 16.03.2018 |
| 01x01 | Season 1 Episode 1 - Part 1 | | 16.03.2018 |
Wild Wild Country TV Series trailer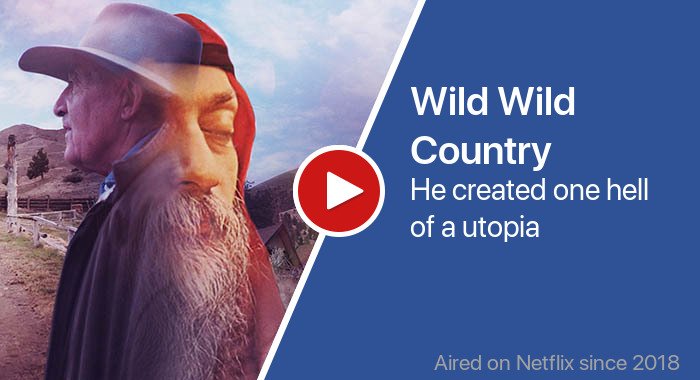 Post discussion
Comments are closed, but will be back soon