Zhivoi

release date

A domestic detective series from 2018 directed by Mikhail Kabanov. The project was commissioned by the NTV channel from the KIT studio. Starring Maria Zykova and Kirill Kyaro.

A news internet publication becomes the object of increased attention from a major criminal syndicate. Journalist Oleg finds out that there is an organized group operating in the area that is involved in the murders of businessmen, oligarchs, and other wealthy individuals. After the death of a business owner, the members of the group distribute his wealth among themselves. Of course, there is some influential figure at the helm, who receives the lion's share. He is responsible for organizing all the crimes. However, it is not easy to prove the involvement of this influential gangster in the murders of officials. The editorial office is skeptical of Oleg's assumptions, and the police, even more so, disregard his speculations. However, Sorokin befriends businessman Lyadov. Oleg tries to warn the banker about the impending assassination targeting him. But the man does not believe the journalist's stories from the internet. As it turns out – in vain. The next day, the banker's car explodes. Sorokin takes it upon himself to investigate this mysterious case. But the syndicate members notice the persistent witness and plan to deal with him using their own methods.
Release date of

Zhivoi

TV Series
New episodes of the «Zhivoi» series aired every Monday 21:00 on «NTV» channel. The specified air time corresponds to the country - Russia. Eastern Daylight Time, the episode will be available same day.
Zhivoi Season

1

- 16 Episodes

| Episode Number | Episode Name | | Release Date |
| --- | --- | --- | --- |
| 01x16 | Season 1 Episode 16 | | 12.04.2018 |
| 01x15 | Season 1 Episode 15 | | 12.04.2018 |
| 01x14 | Season 1 Episode 14 | | 11.04.2018 |
| 01x13 | Season 1 Episode 13 | | 11.04.2018 |
| 01x12 | Season 1 Episode 12 | | 10.04.2018 |
| 01x11 | Season 1 Episode 11 | | 10.04.2018 |
| 01x10 | Season 1 Episode 10 | | 09.04.2018 |
| 01x09 | Season 1 Episode 9 | | 09.04.2018 |
| 01x08 | Season 1 Episode 8 | | 05.04.2018 |
| 01x07 | Season 1 Episode 7 | | 05.04.2018 |
| 01x06 | Season 1 Episode 6 | | 04.04.2018 |
| 01x05 | Season 1 Episode 5 | | 04.04.2018 |
| 01x04 | Season 1 Episode 4 | | 03.04.2018 |
| 01x03 | Season 1 Episode 3 | | 03.04.2018 |
| 01x02 | Season 1 Episode 2 | | 02.04.2018 |
| 01x01 | Season 1 Episode 1 | | 02.04.2018 |
Zhivoi TV Series trailer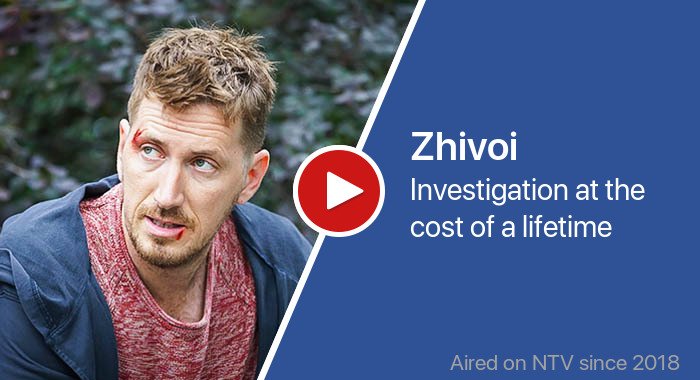 Post discussion
Comments are closed, but will be back soon