Aktrisa

release date

A Russian crime series, the premiere of which took place on December 28, 2017. The project was filmed for NTV channel by director Tigran Keosayan. Starring Yuri Stoyanov, Vladimir Kapustin, Ekaterina Spitsa, Vladimir Menshov.

The ex-wife of investigator Anatoly, after the divorce, went to the capital to conquer local theaters and film studios. The husband was left alone with the child. Everything would be fine, but a couple of years later, the actress is found dead in her hometown. Of course, Anatoly has special reasons to investigate this case, and he thoroughly collects evidence. But since her last days were spent in her hometown, the former spouse also has questions. He becomes one of those who could have a grudge against the capital actress after their scandalous divorce. Now Tolya will have to not only discover the real killer but also prove his innocence in the death of his ex-wife. The main question is - who did the provincial actress, who recently moved to Moscow to conquer the television Olympus, interfere with? Moreover, it is unclear to whom and why it was necessary to include Anatoly in the list of suspects. After all, the girl seemed to have permanently put an end to her provincial past and moved to Moscow. But someone seems to have forced her to return to her hometown, where the mysterious murder took place.
Release date of

Aktrisa

TV Series
New episodes of the «Aktrisa» series aired every Thursday 19:40 on «NTV» channel. The specified air time corresponds to the country - Russia. Eastern Daylight Time, the episode will be available same day.
Aktrisa Season

1

- 8 Episodes

| Episode Number | Episode Name | | Release Date |
| --- | --- | --- | --- |
| 01x08 | Season 1 Episode 8 | | 29.12.2017 |
| 01x07 | Season 1 Episode 7 | | 29.12.2017 |
| 01x06 | Season 1 Episode 6 | | 29.12.2017 |
| 01x05 | Season 1 Episode 5 | | 29.12.2017 |
| 01x04 | Season 1 Episode 4 | | 28.12.2017 |
| 01x03 | Season 1 Episode 3 | | 28.12.2017 |
| 01x02 | Season 1 Episode 2 | | 28.12.2017 |
| 01x01 | Season 1 Episode 1 | | 28.12.2017 |
Aktrisa TV Series trailer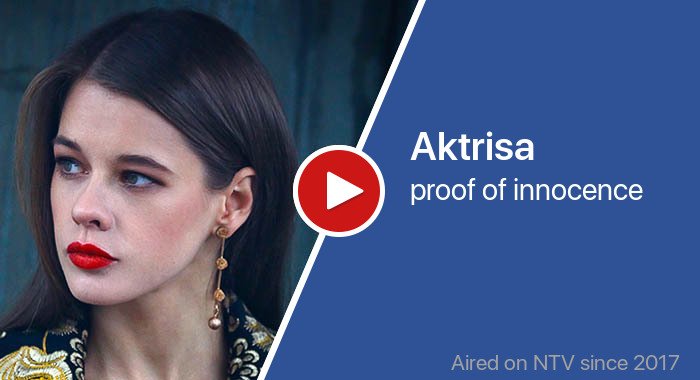 Post discussion
Comments are closed, but will be back soon