Babe leto

release date

Russian melodramatic TV series by Dmitry Svetozarov. Starring Alena Khmelnytska, Alexandra Kulikova, Yuri Stoyanov.

Anna, the librarian, leads a calm, even somewhat routine life. She raised her daughter Daria, who has already flown from the nest. So the woman peacefully lives her life, not hoping for any changes. In the personal life of the main character, everything has been calm for a long time. After her husband left her and Dasha several years ago, the woman had a couple of unsuccessful romances that did not lead to anything serious. And now slowly the forties are knocking on the door. Anna did not even suspect that fate would prepare such unexpected changes for her. Unfortunately, with her adult and independent daughter, her mother has not the warmest relationship. They live in neighboring cities, but only see each other on holidays. And these meetings have a somewhat obligatory nature, despite the fact that Anna put all her efforts into raising her daughter alone. Therefore, now a simple librarian wants feminine happiness. However, life presents its surprises, which do not always bring joy and benefit. She meets a young man who she immediately falls in love with. But is it sincere love on the part of the guy or is it just a fleeting intrigue for his own benefit?
Release date of

Babe leto

TV Series
New episodes of the «Babe leto» series aired on Saturdays 20:45 on «Rossiia 1» channel. The specified air time corresponds to the country - Russia. Eastern Daylight Time, the episode will be available same day.
Babe leto Season

1

- 4 Episodes

| Episode Number | Episode Name | | Release Date |
| --- | --- | --- | --- |
| 01x04 | Season 1 Episode 4 | | 19.11.2011 |
| 01x03 | Season 1 Episode 3 | | 19.11.2011 |
| 01x02 | Season 1 Episode 2 | | 19.11.2011 |
| 01x01 | Season 1 Episode 1 | | 19.11.2011 |
Babe leto TV Series trailer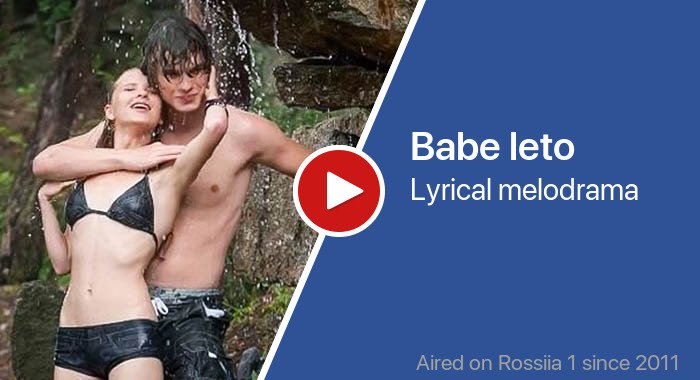 Post discussion
Comments are closed, but will be back soon