Vorona

release date

Domestic crime detective of 2018. Directed by Evgeny Sosnitsky. Starring Elizaveta Boyarskaya as "The Crows".

The series will tell about the workdays of the investigative committee. Major Vorontsova, nicknamed Crow, tries to correct her own mistake. The fact is that for almost a month no criminal case has been filed for a missing person. A local trendy photographer has disappeared and hasn't been home for three weeks. However, he has disappeared several times before. It turned out that these were the consequences of social events, after which he indulged in alcohol and drug binges and disappeared in various resorts with influential individuals. Therefore, no one paid much attention to his temporary disappearance. But this time everything turned out to be much more serious. The photographer was killed, and his killer is unknown. Anna is tormented by guilt, the girl wants to solve this case. But it is not easy to do this, since the socialite was involved in criminal deals between government officials. Who could the photographer have interfered with, specializing in shooting various events, concerts, and photo shoots of show business stars? Who did he cross paths with and where was he absent for three long weeks? Anna Vorontsova has to find out, who will stop at nothing to get to the truth, for the sake of satisfying her own nagging conscience.
Release date of

Vorona

TV Series
New episodes of the «Vorona» series aired on weekdays 21:00 on «NTV» channel. The specified air time corresponds to the country - Russia. Eastern Daylight Time, the episode will be available same day.
Vorona Season

1

- 12 Episodes

| Episode Number | Episode Name | | Release Date |
| --- | --- | --- | --- |
| 01x12 | Season 1 Episode 12 | | 02.11.2018 |
| 01x11 | Season 1 Episode 11 | | 02.11.2018 |
| 01x10 | Season 1 Episode 10 | | 02.11.2018 |
| 01x09 | Season 1 Episode 9 | | 01.11.2018 |
| 01x08 | Season 1 Episode 8 | | 01.11.2018 |
| 01x07 | Season 1 Episode 7 | | 31.10.2018 |
| 01x06 | Season 1 Episode 6 | | 31.10.2018 |
| 01x05 | Season 1 Episode 5 | | 30.10.2018 |
| 01x04 | Season 1 Episode 4 | | 30.10.2018 |
| 01x03 | Season 1 Episode 3 | | 29.10.2018 |
| 01x02 | Season 1 Episode 2 | | 29.10.2018 |
| 01x01 | Season 1 Episode 1 | | 29.10.2018 |
Vorona TV Series trailer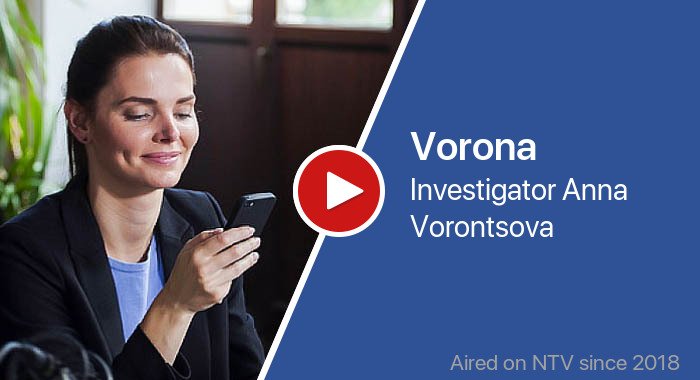 Post discussion
Comments are closed, but will be back soon