Crazyhead

release date

The TV series "Crazyhead" managed to combine opposite genres of horror and comedy. The premiere of this wonderful English work took place on the channel "E4" on October 19, 2016. A well-coordinated team worked on the creation of the TV series, which presented one of the good series "Misfits" to the world.

An ordinary girl, Amy, notices strange things happening around her. She used to dismiss everything unexplainable happening near the heroine as a product of her imagination. Soon Amy realizes that she can actually see restless souls and she is not going crazy. Now the heroine understands why some people behave strangely, as the ghosts possess bodies and turn unsuspecting people into possessed ones. It's one thing to see people taken over by restless souls, and quite another to help them break free. The heroine decides to fight this affliction, so she begins the search for allies to resist evil. Amy finds assistance in the form of demon hunter Raquel. However, not everything goes smoothly, as Raquel's knowledge comes from Wikipedia, and the weapons used to fight demons are bought from an online store. It turns out that the amateur demon hunter with a dark past has no communication skills. Therefore, Amy has to try hard to gain any knowledge from the silent Raquel. Will the girls understand each other? Will the internet be helpful in the fight against demons?
Release date of

Crazyhead

TV Series
New episodes of the «Crazyhead» series aired on Wednesdays 21:00 on «E4» channel. The specified air time corresponds to the country - United Kingdom. Eastern Daylight Time, the episode will be available same day.
Crazyhead Season

1

- 6 Episodes

| Episode Number | Episode Name | | Release Date |
| --- | --- | --- | --- |
| 01x06 | Season 1 Episode 6 - Beaver with a Chainsaw | | 23.11.2016 |
| 01x05 | Season 1 Episode 5 - Downward Facing Dog | | 16.11.2016 |
| 01x04 | Season 1 Episode 4 - Penguin or Cow? | | 09.11.2016 |
| 01x03 | Season 1 Episode 3 - Shave the Cat | | 02.11.2016 |
| 01x02 | Season 1 Episode 2 - A Pine Fresh Scent | | 26.10.2016 |
| 01x01 | Season 1 Episode 1 - A Very Trippy Horse | | 19.10.2016 |
Crazyhead TV Series trailer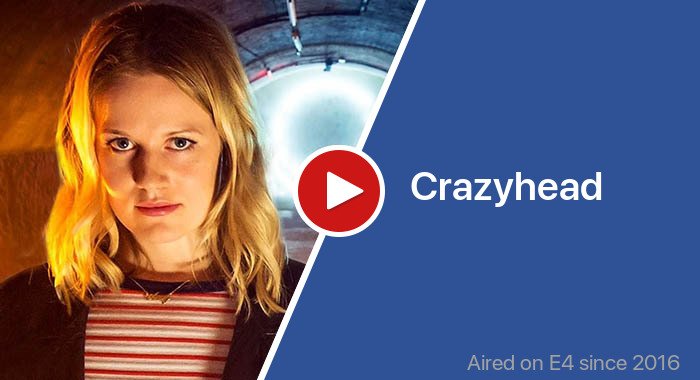 News about

Crazyhead

tv series
Channel E4 is preparing the 2nd season of the series "Crazyhead" for broadcast in the fall of 2017. The production of the British show is handled by the film company Urban Myth Films. One of its producers, Julian Murphy, announced the decision to extend the comedy.
Post discussion
Comments are closed, but will be back soon