Dead Lucky

release date

Australian cinematographers have prepared an exciting thriller for the audience, starring Rachel Griffiths. The incomparable artist has played in the mini-series "Barracuda" and "Gallipoli Story".

The residents of Sydney were shocked by a selfish crime committed in the district. Suddenly, an armed gang of thugs invaded a regular urban supermarket. The robbers intended to take the proceeds and retreat quickly. Unexpectedly, the face of one of the invaders managed to reveal itself. Surprised law enforcement officers realized that it was a long and unsuccessful wanted gangster. The elusive thug is accused of murdering innocent people, such as police officers. For a prolonged period, a stubborn and hardworking woman named Gibbs has been trying to catch the scoundrel, as he was responsible for the deaths of colleagues and reliable allies. Currently, the detective prefers to act alone, fearing another failure. She has a capable apprentice. The handsome Fung shows excessive tenacity and is determined to prove to his boss that he is worth devoting to bold plans. Charlie shows his best side and intends to succeed in a difficult profession. Grace, in the company of the charismatic boy, plans to catch the culprit before he devastates the city and causes irreparable harm to the indigenous population.
Release date of

Dead Lucky

TV Series
New episodes of the «Dead Lucky» series aired on Wednesdays 21:30 on «SBS» channel. The specified air time corresponds to the country - USA. Eastern Daylight Time, the episode will be available same day.
Dead Lucky Season

1

- 4 Episodes

| Episode Number | Episode Name | | Release Date |
| --- | --- | --- | --- |
| 01x04 | Season 1 Episode 4 - Episode 4 | | 15.08.2018 |
| 01x03 | Season 1 Episode 3 - Episode 3 | | 08.08.2018 |
| 01x02 | Season 1 Episode 2 - Episode 2 | | 01.08.2018 |
| 01x01 | Season 1 Episode 1 - Episode 1 | | 25.07.2018 |
Dead Lucky TV Series trailer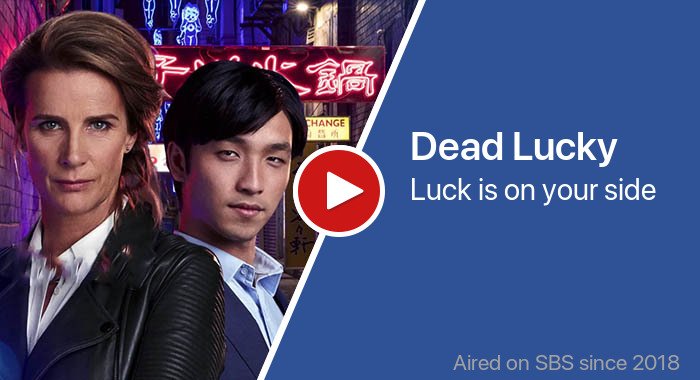 News about

Dead Lucky

tv series
A representative of the film company SBS-TV Australia announced that the show has been cancelled. If the crime drama is bought, then the start of the second season of "Dead Lucky" is expected no earlier than the end of 2021.
Post discussion
Comments are closed, but will be back soon