Shaman (TV-3)

release date

A fantastic project, directed by Igor Khomsky, will appear on TV-3 channel. Four famous screenwriters worked on the script for this project. Arthur Smoljaninov played the main role in the thriller, and Sergei Puskepalis played the leading character.

One day, Alexander discovers extraordinary abilities in himself. It turns out that he is able to cross the boundary between the world of the living and the dead. He is gifted with the ability to communicate with spirits who have not found peace. After figuring out his new abilities, the man decides to use them for the benefit of society. He offers help in solving crimes that have long gathered dust on the shelves in the archive and were considered "unsolved cases". Sasha excels at analyzing incidents and successfully identifying the criminal. At the same time, he opposes the evil that emanates from the otherworldly realm, protecting the living. But the further the gifted man progresses, the more threats arise around him. Now, risk and danger await Alexander not only in the afterlife. His family unexpectedly finds itself in trouble. And he suspects that all of this is happening because of his abilities. Thus, he must weigh everything and make the right decision - to give up his gift or to accept the challenges worthily and become an ancestral shaman.
Release date of

Shaman (TV-3)

TV Series
New episodes of the «Shaman (TV-3)» series aired Monday to Thursday 21:00 on «TV-3» channel. The specified air time corresponds to the country - Russia. Eastern Daylight Time, the episode will be available same day.
Shaman (TV-3) Season

1

- 8 Episodes

| Episode Number | Episode Name | | Release Date |
| --- | --- | --- | --- |
| 01x08 | Season 1 Episode 8 | | 31.03.2021 |
| 01x07 | Season 1 Episode 7 | | 30.03.2021 |
| 01x06 | Season 1 Episode 6 | | 29.03.2021 |
| 01x05 | Season 1 Episode 5 | | 25.03.2021 |
| 01x04 | Season 1 Episode 4 | | 24.03.2021 |
| 01x03 | Season 1 Episode 3 | | 23.03.2021 |
| 01x02 | Season 1 Episode 2 | | 22.03.2021 |
| 01x01 | Season 1 Episode 1 | | 18.03.2021 |
Shaman (TV-3) TV Series trailer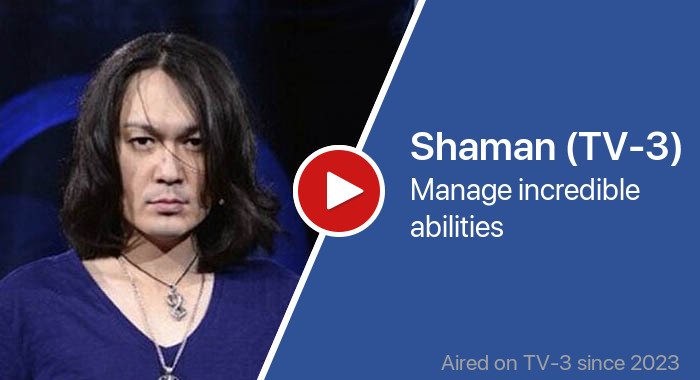 Post discussion
Comments are closed, but will be back soon