Dvoinaia zhizn

release date

Criminal drama with detective elements from "Phoenix Film" premiered on "Channel One" in January 2018. The series is notable for the joint work of two actresses who have united to portray one character. Arntgolts and Syrkina carefully studied each other's habits and skillfully transferred them into the image of the shared heroine.

Natalia Pakhomova's personal life, working in the investigative department, is devoid of male presence. After a painful divorce, she is left taking care of her son Artem and her pensioner mother. The woman's character has been tempered by years of solitude, so she always achieves her goals on her own. The slow but confident building of her career was based on impartiality and incorruptibility, earning sincere respect from her colleagues. However, a cancer diagnosis for her beloved child presents a difficult choice. Expensive treatment is required to save her son's life. Natalia will not be able to procure such money, even by selling her apartment, taking a loan, or asking for help from colleagues and friends. Overwhelmed by grief, the woman receives an offer from a local authority figure in the criminal world. He promises to provide her with the necessary amount in exchange for help in organizing someone's escape who is under investigation. The subsequent events threaten the heroine's life. The only way to save herself is to change her appearance, create a new identity, and start a new life.
Release date of

Dvoinaia zhizn

TV Series
New episodes of the «Dvoinaia zhizn» series aired every Monday 21:35 on «Pervyi kanal» channel. The specified air time corresponds to the country - Russia. Eastern Daylight Time, the episode will be available same day.
Dvoinaia zhizn Season

1

- 8 Episodes

| Episode Number | Episode Name | | Release Date |
| --- | --- | --- | --- |
| 01x08 | Season 1 Episode 8 | | 18.01.2018 |
| 01x07 | Season 1 Episode 7 | | 18.01.2018 |
| 01x06 | Season 1 Episode 6 | | 17.01.2018 |
| 01x05 | Season 1 Episode 5 | | 17.01.2018 |
| 01x04 | Season 1 Episode 4 | | 16.01.2018 |
| 01x03 | Season 1 Episode 3 | | 16.01.2018 |
| 01x02 | Season 1 Episode 2 | | 15.01.2018 |
| 01x01 | Season 1 Episode 1 | | 15.01.2018 |
Dvoinaia zhizn TV Series trailer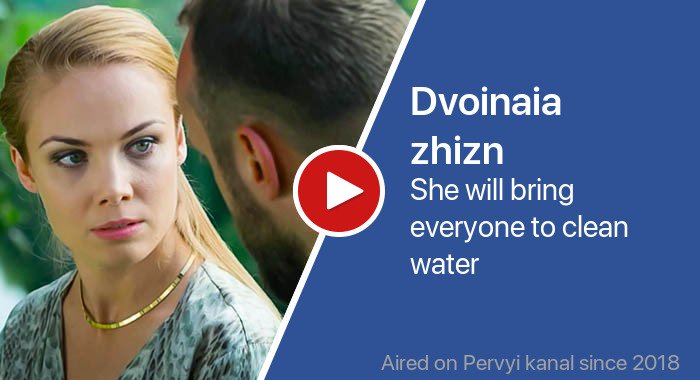 Post discussion
Comments are closed, but will be back soon