Fors-mazhor

release date

Wonderful news for fans of crime comedies, as in the autumn of 2018 the NTV channel will launch the series "Force Majeure". Alexander Zhigalkin intends to surprise the viewer by providing a funny story filled with intrigue. The roles will be played by the most virtuoso actors-comedians, familiar to us from sensational series.

Victor's life was calm and uneventful, he was a modest guy. He chose a job that suited him, so he settled for the position of a nurse in a decent clinic that dealt with expensive plastic surgeries. He fit in perfectly with the work collective, which constantly puzzled him with requests from a reliable guy. There was no peace outside of work either, as his friends and mother loved to use him for their needs. One day, terrifying news began to be broadcast on all TV channels, a powerful criminal and the head of a whole criminal gang were being searched for. In the morning at work, Victor was surprised when another client turned to the clinic and turned out to be a local mafioso "The Therapist". He demands a change of face to hide from the police. The doctors take on a complex operation, but the client dies during it. The hero of the series understands that the mafia won't forgive such a mistake. He decides to turn to his friend Artem, and he advises him to change his appearance, namely his face, by taking on the life of the deceased. Seeing no other way out and the desire to live, he pushes himself into an absurd decision. Now the hero awaits not only major cases, but also a multitude of previously unseen problems. What kind of criminal authority will the modest nurse become?
Release date of

Fors-mazhor

TV Series
New episodes of the «Fors-mazhor» series aired Monday to Thursday 21:30 on «NTV» channel. The specified air time corresponds to the country - Russia. Eastern Daylight Time, the episode will be available same day.
Fors-mazhor Season

1

- 5 Episodes

| Episode Number | Episode Name | | Release Date |
| --- | --- | --- | --- |
| 01x05 | Season 1 Episode 5 | | 26.11.2020 |
| 01x04 | Season 1 Episode 4 | | 22.11.2020 |
| 01x03 | Season 1 Episode 3 | | 21.11.2020 |
| 01x02 | Season 1 Episode 2 | | 20.11.2020 |
| 01x01 | Season 1 Episode 1 | | 19.11.2020 |
Fors-mazhor TV Series trailer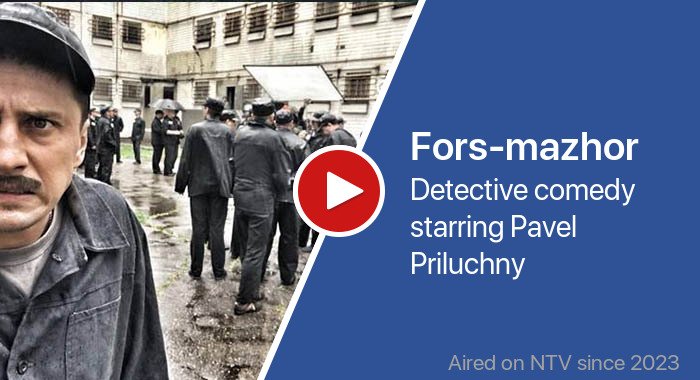 News about

Fors-mazhor

tv series
You will be able to see the 2nd season of the Russian detective drama "Fors-mazhor" in 2021, as reported by the story's producer Elina Bogdanova.
Post discussion
Comments are closed, but will be back soon