Ghost Wars

release date

A fantasy series with elements of horror from the film company "Nomadic Pictures" premiered in October 2017 on the "SyFy" channel. The composer was Patrick Caird, who created the soundtrack for the series "Beyond the Possible".

All of Roman Mercer's childhood he was an outcast. Peers who considered him a "black sheep" constantly tried to ruin his life. It was also impossible to rely on adults, as they did not trust the boy and tried to avoid him, dismissing his stories as childish fantasies. The whole reason for such treatment was a special gift. Roman has been able to see spirits and communicate with them since birth. Because of the lack of understanding from those around him, the child even made friends with one of the ghosts. With age, the ability did not disappear. Attempts to suppress the power turned out to be unsuccessful. There was only one hope - to change his place of residence, surrounding himself with new people who were unaware of his frightening abilities. However, the events that occurred did not allow this to happen. A wave of disasters swept through the town. Accidents, mysterious disappearances, and enigmatic deaths defied logic. In connection with this, the police stopped at the version of a mystical nature of what was happening. The local sheriff, who tried to support the boy and protect him from attacks, realizes that the salvation of the entire population depends on Roman.
Release date of

Ghost Wars

TV Series
New episodes of the «Ghost Wars» series aired every Thursday 22:00 on «Syfy» channel. The specified air time corresponds to the country - USA. Eastern Daylight Time, the episode will be available same day.
Ghost Wars Season

1

- 13 Episodes

| Episode Number | Episode Name | | Release Date |
| --- | --- | --- | --- |
| 01x13 | Season 1 Episode 13 - ...my Soul to Keep | | 04.01.2018 |
| 01x12 | Season 1 Episode 12 - There's No More Room in Hell | | 28.12.2017 |
| 01x11 | Season 1 Episode 11 - The Feast | | 21.12.2017 |
| 01x10 | Season 1 Episode 10 - The Pain Connection | | 14.12.2017 |
| 01x09 | Season 1 Episode 9 - Post-Apocalypse Now | | 07.12.2017 |
| 01x08 | Season 1 Episode 8 - Two Graves | | 30.11.2017 |
| 01x07 | Season 1 Episode 7 - Whistle Past the Graveyard | | 16.11.2017 |
| 01x06 | Season 1 Episode 6 - We Need to Talk About Abigail | | 09.11.2017 |
| 01x05 | Season 1 Episode 5 - Whatever Happened to Maggie Rennie | | 02.11.2017 |
| 01x04 | Season 1 Episode 4 - The Exorcism of Marcus Moon | | 26.10.2017 |
| 01x03 | Season 1 Episode 3 - The Curse of Copperhead Road | | 19.10.2017 |
| 01x02 | Season 1 Episode 2 - The Ghost in the Machine | | 12.10.2017 |
| 01x01 | Season 1 Episode 1 - Death's Door | | 05.10.2017 |
Ghost Wars TV Series trailer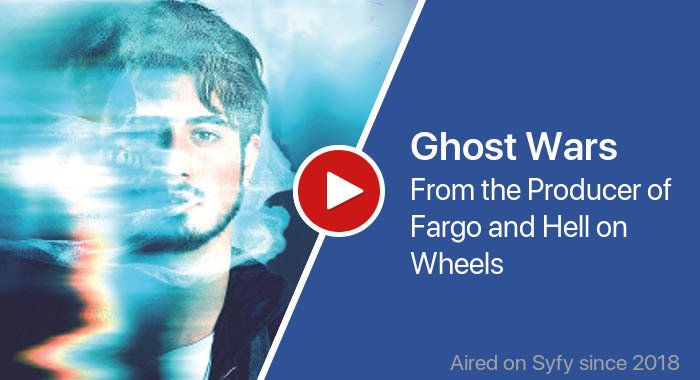 Post discussion
Comments are closed, but will be back soon