Grozdia vinograda

release date

The historical drama by TPC "Kinosyuzhet" premiered at the end of 2018 on Channel One. The filming of the series, under the direction of director Anna Lobanova, showcases the magnificent views of the Karginsky stanitsa – the homeland of Sholokhov M.A.

1953 - the end of Stalin's rule and the beginning of a new historical era. In addition to state enterprises, agriculture was revived through the hard work of the people, who united in cooperatives for a common idea. The food shortage affected everyone, not allowing them to stay on the sidelines. The Cossacks of Rostov, living along the Don River, were not lagging behind. Generations of hardworking residents cultivated vine plantations, producing exquisite homemade wine of excellent quality. However, the tightening of the anti-alcohol campaign by the Council of Ministers and the Central Committee of the CPSU turned into a real battle for the family business. Uprooting and burning of vineyards could not leave the Cossacks unaffected. Tension and dissatisfaction were fueled by events related to the construction of the Tsimlyansk reservoir. The water caused damage to over 150 settlements. Despite this, winemakers from the Cossacks are not ready to give in to the troubles that have befallen them, sacrificing their beloved craft. But will the officials make concessions, or are the vineyards already beyond recovery?
Release date of

Grozdia vinograda

TV Series
New episodes of the «Grozdia vinograda» series aired Monday to Thursday 21:00 on «Pervyi kanal» channel. The specified air time corresponds to the country - Russia. Eastern Daylight Time, the episode will be available same day.
Grozdia vinograda Season

1

- 24 Episodes

| Episode Number | Episode Name | | Release Date |
| --- | --- | --- | --- |
| 01x24 | Season 1 Episode 24 | | 25.02.2021 |
| 01x23 | Season 1 Episode 23 | | 24.02.2021 |
| 01x22 | Season 1 Episode 22 | | 23.02.2021 |
| 01x21 | Season 1 Episode 21 | | 22.02.2021 |
| 01x20 | Season 1 Episode 20 | | 18.02.2021 |
| 01x19 | Season 1 Episode 19 | | 17.02.2021 |
| 01x18 | Season 1 Episode 18 | | 16.02.2021 |
| 01x17 | Season 1 Episode 17 | | 15.02.2021 |
| 01x16 | Season 1 Episode 16 | | 11.02.2021 |
| 01x15 | Season 1 Episode 15 | | 10.02.2021 |
| 01x14 | Season 1 Episode 14 | | 09.02.2021 |
| 01x13 | Season 1 Episode 13 | | 08.02.2021 |
| 01x12 | Season 1 Episode 12 | | 04.02.2021 |
| 01x11 | Season 1 Episode 11 | | 03.02.2021 |
| 01x10 | Season 1 Episode 10 | | 02.02.2021 |
| 01x09 | Season 1 Episode 9 | | 01.02.2021 |
| 01x08 | Season 1 Episode 8 | | 28.01.2021 |
| 01x07 | Season 1 Episode 7 | | 27.01.2021 |
| 01x06 | Season 1 Episode 6 | | 26.01.2021 |
| 01x05 | Season 1 Episode 5 | | 25.01.2021 |
| 01x04 | Season 1 Episode 4 | | 21.01.2021 |
| 01x03 | Season 1 Episode 3 | | 20.01.2021 |
| 01x02 | Season 1 Episode 2 | | 19.01.2021 |
| 01x01 | Season 1 Episode 1 | | 18.01.2021 |
Grozdia vinograda TV Series trailer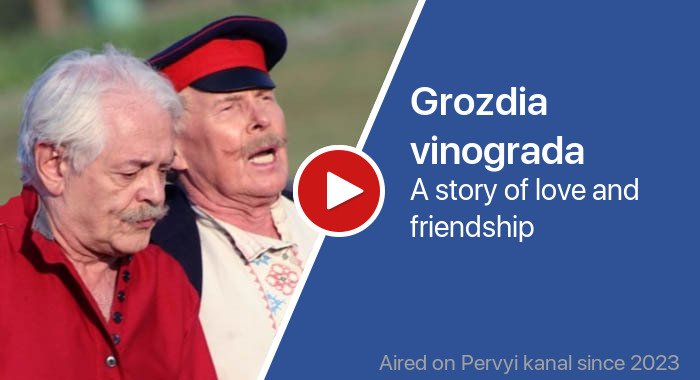 Post discussion
Comments are closed, but will be back soon