Krepost Badaber

release date

Military drama by Kirill Belevich. The series starred Irina Rozanova, Sergey Marin, Svetlana Ivanova.

The television series tells the events of 1985. Yury Nikitin is a secret agent of the intelligence department. His new assignment is a mission to Pakistan. At this time, terrorists are raging there and they have captured Russian soldiers. Among the captives is Mikhail, Yury's friend. In addition, Misha is the son of Nikitin's soldier chief. General Kolesov has been grieving for his son, who disappeared without a trace in these desert steppes on a combat mission for several years. However, as it turns out, Mikhail is alive. For now. Therefore, Yury must sneak into the Badaber fortress unnoticed and free his comrades. But it's not that simple. In several months of captivity, the Russian soldiers have been completely demoralized. Their combat spirit has turned into a basic thirst for survival in these inhumane conditions. Some of their comrades were killed or tortured to death. The rest live as ordinary slaves, performing hard and dirty work for the Mujahideen. Yury's task is to get inside the guarded building. Then he must make a plan and persuade the soldiers to escape. The army outside will conduct artillery shelling, but will all the soldiers survive in this slaughter?
Release date of

Krepost Badaber

TV Series
New episodes of the «Krepost Badaber» series aired every Monday 21:35 on «Pervyi kanal» channel. The specified air time corresponds to the country - Russia. Eastern Daylight Time, the episode will be available same day.
Krepost Badaber Season

1

- 4 Episodes

| Episode Number | Episode Name | | Release Date |
| --- | --- | --- | --- |
| 01x04 | Season 1 Episode 4 | | 15.02.2018 |
| 01x03 | Season 1 Episode 3 | | 14.02.2018 |
| 01x02 | Season 1 Episode 2 | | 13.02.2018 |
| 01x01 | Season 1 Episode 1 | | 12.02.2018 |
Krepost Badaber TV Series trailer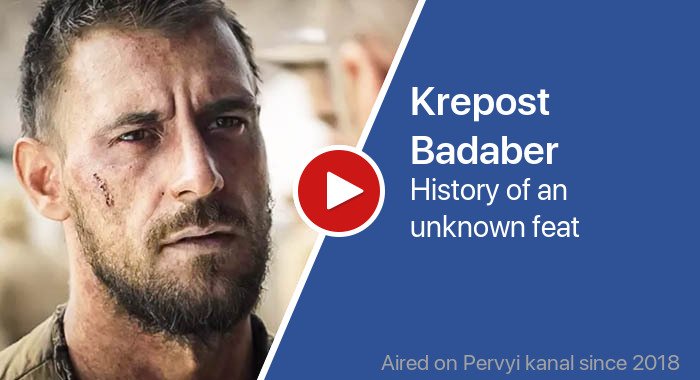 Post discussion
Comments are closed, but will be back soon