Love and the sea

release date

Fascinating mini-series "Love and the Sea" is a product of cooperation between Ukraine and Russia, with the widely known, charming, and witty Anastasia Zavorotnyuk in the main role. The TV series touches on a quite sensitive and delicate subject - marital infidelity, and explains what a woman in love is willing to do for her chosen one.

Alexey and Marina, a married couple, live in a provincial seaside town and both work at a local health complex. Alexey conducts therapeutic exercises for the resort guests, while his wife Marina is a massage therapist-cosmetologist. Their marriage seems to many as an ideal example of spousal relations: the spouses have built a beautiful house of their own and are raising a charming daughter. In reality, the feelings between the spouses have cooled considerably, and not everything is as prosperous as it seems. Everything is further complicated by the arrival of the seductive beauty Elizabeth, who immediately sets her sights on the appealing Alexey. The alluring girl is assured that she doesn't have much to hope for with a model family man, but this only further ignites her. The cunning temptress is ready for any tricks and still manages to achieve her goal. Marina learns about the infidelity and is ready to leave her husband, but a dear friend Natalia convinces her to fight for her beloved. According to their plan, Marina urgently needs to make Alexey jealous of other men.
Release date of

Love and the sea

TV Series
New episodes of the «Love and the sea» series aired every Sunday 18:00 on «Inter» channel. The specified air time corresponds to the country - Ukraine. Eastern Daylight Time, the episode will be available same day.
Liubov i more Season

1

- 4 Episodes

| Episode Number | Episode Name | | Release Date |
| --- | --- | --- | --- |
| 01x04 | Season 1 Episode 4 | | 24.09.2016 |
| 01x03 | Season 1 Episode 3 | | 24.09.2016 |
| 01x02 | Season 1 Episode 2 | | 24.09.2016 |
| 01x01 | Season 1 Episode 1 | | 24.09.2016 |
Liubov i more TV Series trailer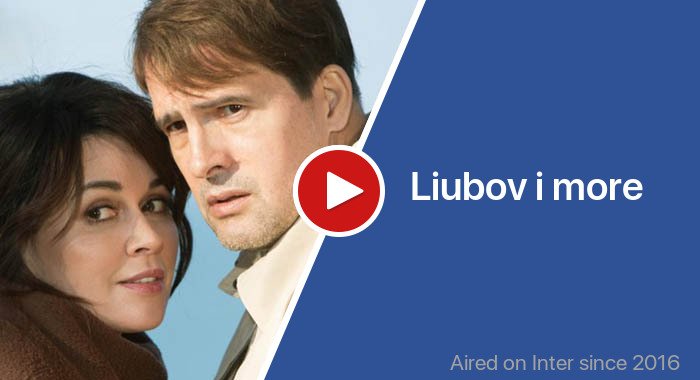 News about

Liubov i more

tv series
The TV show "Love and the Sea" is a joint project by directors and actors from two countries: Ukraine and the Russian Federation. The continuation promises to be no less exciting and will be aired in 2018.
Post discussion
Comments are closed, but will be back soon