Marseille

release date

The dramatic series from the film company "Federation Entertainment" started in May 2016 on the "TF1" TV channel. The main role is played by Gérard Depardieu, who can boast not only of the "Golden Globe" but also of other worthy awards in his collection.

The same person has been in the position of mayor of Marseille for three decades. Robert Taro, who has been in power all this time, has dedicated the last few years to preparing his future candidacy. His clever protégé has grown up as his own son and had access to all the political and personal secrets of his mentor. Understanding and accepting the realities of the future, Taro understood the transience of his current position. In recent years, he has carefully prepared the capital for a peaceful old age. One of the passive sources of income for the future pensioner was supposed to be a casino, presented as a project to boost tourism and attract outside profit. The majority of the townspeople supported the construction, but the upcoming elections disrupted the planned plans. The opponent in the upcoming elections turned out to be Lucas Barré - the very promising pupil. A former friend and comrade turned into an enemy. Despite the problems within his own family, it's not easy to intimidate Robert. He is absolutely determined not to lose. However, Barré knows too much, and in the brewing political war, the main trump card may well be in his hands.
Release date of

Marseille

TV Series
New episodes of the «Marseille» series aired on Fridays 12:00 on «Netflix» channel. The specified air time corresponds to the country - France. Eastern Daylight Time, the episode will be available same day.
Marseille Season

2

- 8 Episodes

| Episode Number | Episode Name | | Release Date |
| --- | --- | --- | --- |
| 02x08 | Season 2 Episode 8 - Justice | | 23.02.2018 |
| 02x07 | Season 2 Episode 7 - Abandon | | 23.02.2018 |
| 02x06 | Season 2 Episode 6 - Revelation | | 23.02.2018 |
| 02x05 | Season 2 Episode 5 - Capitulation | | 23.02.2018 |
| 02x04 | Season 2 Episode 4 - Resistance | | 23.02.2018 |
| 02x03 | Season 2 Episode 3 - Conquest | | 23.02.2018 |
| 02x02 | Season 2 Episode 2 - Dominance | | 23.02.2018 |
| 02x01 | Season 2 Episode 1 - Perjury | | 23.02.2018 |
Marseille Season

1

- 8 Episodes

| Episode Number | Episode Name | | Release Date |
| --- | --- | --- | --- |
| 01x08 | Season 1 Episode 8 - La Lutte Finale | | 06.05.2016 |
| 01x07 | Season 1 Episode 7 - A voté | | 06.05.2016 |
| 01x06 | Season 1 Episode 6 - Liberté, Egalité, sans Pitié | | 06.05.2016 |
| 01x05 | Season 1 Episode 5 - Face à Face | | 06.05.2016 |
| 01x04 | Season 1 Episode 4 - Intox | | 06.05.2016 |
| 01x03 | Season 1 Episode 3 - Crocodile | | 06.05.2016 |
| 01x02 | Season 1 Episode 2 - Homme de paille | | 06.05.2016 |
| 01x01 | Season 1 Episode 1 - 20 ans | | 06.05.2016 |
Marseille TV Series trailer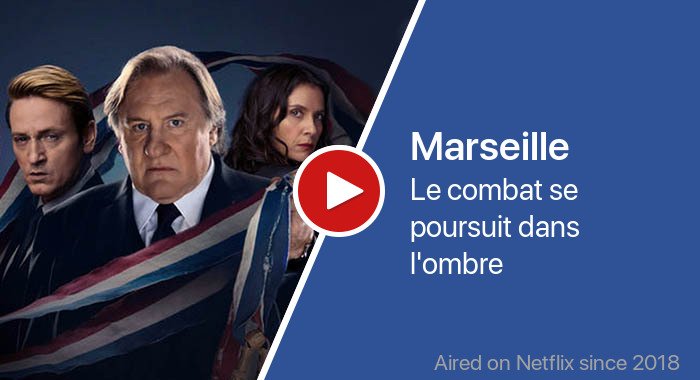 Post discussion
Comments are closed, but will be back soon