Mosaic

release date

A crime thriller from the television company "Home Box Office" started in January 2018. The series is based on an interactive mobile application that allows you to influence the course of events.

A dark period has come for children's writer Olivia Lake. For quite some time, her creative muse has not visited her, so all her efforts are focused on managing "Mosaic" - a charity foundation. In an attempt to immerse herself in her forgotten author's past, she directs her efforts towards creating children's creative houses. At the same time, Olivia is constantly bothered by her neighbor Michael, who is trying to buy her mansion. Soon, two more men appear in the author's life, pursuing their selfish goals. The young artist Joel captivates the heroine with his love for creativity. The young man, dreaming of a benefactor, eagerly agrees to do household chores and earns the host's approval to live in the barn. Sweet-voiced Eric Neal, who turns out to be an ordinary swindler and falls in love with Olivia during an assignment, decides to reveal his true intentions but only receives disapproval and gets kicked out of the house. On the same night, the writer disappears. The police, suspecting kidnapping, accuse Eric and throw him behind bars. However, his sister Petra is convinced that something isn't right with this case. Her suspicions are confirmed after finding Olivia's hand. The investigation is reopened.
Release date of

Mosaic

TV Series
New episodes of the «Mosaic» series aired on weekdays 20:00 on «HBO» channel. The specified air time corresponds to the country - USA. Eastern Daylight Time, the episode will be available same day.
Mosaic Season

1

- 6 Episodes

| Episode Number | Episode Name | | Release Date |
| --- | --- | --- | --- |
| 01x06 | Season 1 Episode 6 - Fact and Fiction | | 26.01.2018 |
| 01x05 | Season 1 Episode 5 - The Reckoning | | 26.01.2018 |
| 01x04 | Season 1 Episode 4 - Ilsa From Finland | | 25.01.2018 |
| 01x03 | Season 1 Episode 3 - Zebra-Itis | | 24.01.2018 |
| 01x02 | Season 1 Episode 2 - Moving Forward, Not Back | | 23.01.2018 |
| 01x01 | Season 1 Episode 1 - Meet Olivia Lake | | 22.01.2018 |
Mosaic TV Series trailer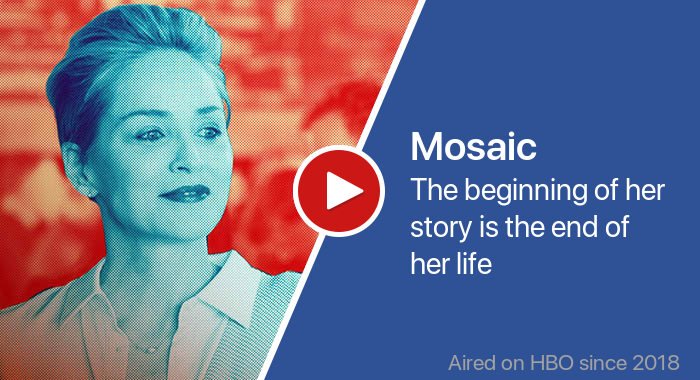 News about

Mosaic

tv series
Michael Polayre, executive producer of the crime project "Mosaic", announced his intention to release episodes of Season 2 in early 2019.
Post discussion
Comments are closed, but will be back soon