Novaia zhizn

release date

The film company "Russian Golden Series" in 2018 releases the melodramatic series "New Life" on the screens. An interesting feature is that the script is written by authors who specialize in detective themes, so you can expect cool plot twists and incredible events.

Polina and Dmitry have been together for many years, so the former passion has faded and only ordinary stable relationships remain. Their son Vanya is turning seven, but the father is forced to fly to an international conference that cannot be canceled. The wife saw him off at the airport, and a few hours later came the terrible news of the plane crash. It was reported by all the media - the plane crashed, all the passengers died. It was the flight on which Dmitry departed on a business trip. During the investigation, it turned out that the man did not even intend to fly. This is confirmed by the CCTV footage at the airport, which clearly shows Dmitry leaving the premises in the company of a woman and a child and going in an unknown direction. Polina begins to search for her husband, but with each passing day, so many details of his secret life are revealed that she starts to panic. It turns out that she didn't know the person close to her at all and never suspected what actions he was capable of. Could this be a banal betrayal that could only be revealed by a terrible combination of circumstances?
Release date of

Novaia zhizn

TV Series
New episodes of the «Novaia zhizn» series aired Monday to Thursday 21:30 on «NTV» channel. The specified air time corresponds to the country - Russia. Eastern Daylight Time, the episode will be available same day.
Novaia zhizn Season

1

- 8 Episodes

| Episode Number | Episode Name | | Release Date |
| --- | --- | --- | --- |
| 01x08 | Season 1 Episode 8 | | 20.12.2018 |
| 01x07 | Season 1 Episode 7 | | 20.12.2018 |
| 01x06 | Season 1 Episode 6 | | 19.12.2018 |
| 01x05 | Season 1 Episode 5 | | 19.12.2018 |
| 01x04 | Season 1 Episode 4 | | 18.12.2018 |
| 01x03 | Season 1 Episode 3 | | 18.12.2018 |
| 01x02 | Season 1 Episode 2 | | 17.12.2018 |
| 01x01 | Season 1 Episode 1 | | 17.12.2018 |
Novaia zhizn TV Series trailer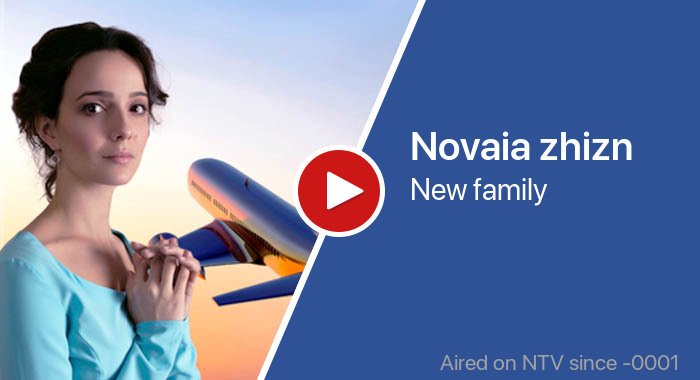 News about

Novaia zhizn

tv series
Natalya Lazareva, the executive producer of the domestic detective series "Novaia zhizn", announced that the 2nd season of the melodrama is expected to be shown by the end of 2018.
Post discussion
Comments are closed, but will be back soon