One of Us

release date

"One of Us" is a multi-series thriller by BBC One. The series, directed by William McGregor, premiered in 2016.

In a quiet little Scottish village, with a relatively small population, two families have been friends for many years. Over time, their children get married. Everyone expected this. But in a couple of days, everything changes. Early in the morning, the newlyweds are found brutally murdered. Who could have done this? Why? After all, they were the simplest guys who never wished harm to anyone. Has a maniac come to the village where everyone knows each other? Suspicions fall on a stranger - a young man who secretly was detained and severely beaten by the families of the victims. He was put in a cage so he couldn't escape. And he was killed at night. Both families come under suspicion, as they could have avenged their children's death by getting rid of their potential killer. But no one admits their involvement, everyone suspects each other. The death of the boy is decided to be kept secret. The police have already started searching for Lee Walsh, the murdered young man, who was last seen in that village. As it turns out, Lee was indeed connected to the victims, heading straight towards that couple. Did he kill them and why did he do it? Who got rid of him? Throughout the series, all the secrets and mysteries that practically everyone living in the small village harbors will be revealed.
Release date of

One of Us

TV Series
New episodes of the «One of Us» series aired every Tuesday 21:00 on «BBC One» channel. The specified air time corresponds to the country - United Kingdom. Eastern Daylight Time, the episode will be available same day.
One of Us Season

1

- 4 Episodes

| Episode Number | Episode Name | | Release Date |
| --- | --- | --- | --- |
| 01x04 | Season 1 Episode 4 - Adam and Grace | | 13.09.2016 |
| 01x03 | Season 1 Episode 3 - Glenarvon Loch | | 06.09.2016 |
| 01x02 | Season 1 Episode 2 - Beneath the Surface | | 30.08.2016 |
| 01x01 | Season 1 Episode 1 - The Storm | | 23.08.2016 |
One of Us TV Series trailer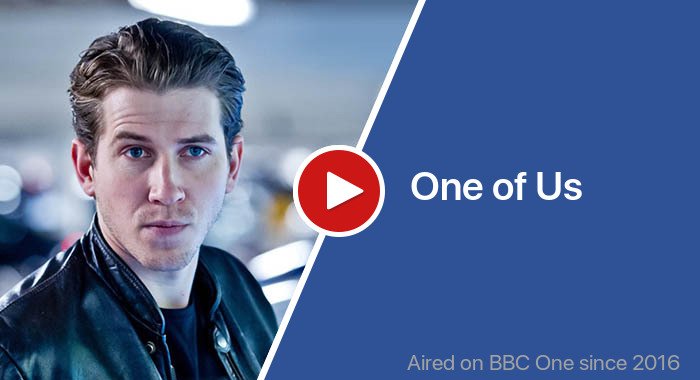 News about

One of Us

tv series
The estimated release time for the second season of the dramatic thriller "One of Us" is 2018. The series, which takes place in quiet rural settings, has managed to evoke strong emotions in viewers thanks to its well-developed and psychologically intense atmosphere.
Post discussion
Comments are closed, but will be back soon