Poliarnyi 17

release date

At the end of 2017, TNT will air the crime sitcom "Polar, 17". The creator of the new comedy for the channel is Alexey Sidorov, also known as the director of the legendary "Brigada".

The main character of the new adventure show is businessman Victor, who many years ago was known as the seasoned gangster Vitya-Myasnik. But time goes by and he has traded the criminal world for a calm and measured life, using a pistol and a bat for a successful business that brings in legal money. However, Victor's former accomplices with a criminal past have not quit, and one fine day, hiding from justice, they ask him to hold on to the stolen gangster loot in his bank account. Without much thought, Vitya agrees to help his old friends, but by sheer accident, he forgets the password for the bank account. This leads to a predicament - the gangsters demand the money, but our Myasnik cannot give it to them. This leads the thieves to think that their old friend is trying to deceive them, so they decide to forcefully take back their funds. Fearing for his life, the man flees and goes to the provincial town of Polar-17, where he hopes that Victor will not be found. However, it turns out later that the residents of this settlement have not forgotten about the 90s and still live by their rules.
Release date of

Poliarnyi 17

TV Series
New episodes of the «Poliarnyi 17» series aired Monday to Thursday 20:30 on «TNT» channel. The specified air time corresponds to the country - Russia. Eastern Daylight Time, the episode will be available same day.
Poliarnyi 17 Season

1

- 5 Episodes

| Episode Number | Episode Name | | Release Date |
| --- | --- | --- | --- |
| 01x05 | Season 1 Episode 5 | | 09.12.2019 |
| 01x04 | Season 1 Episode 4 | | 05.12.2019 |
| 01x03 | Season 1 Episode 3 | | 04.12.2019 |
| 01x02 | Season 1 Episode 2 | | 03.12.2019 |
| 01x01 | Season 1 Episode 1 | | 02.12.2019 |
Poliarnyi 17 TV Series trailer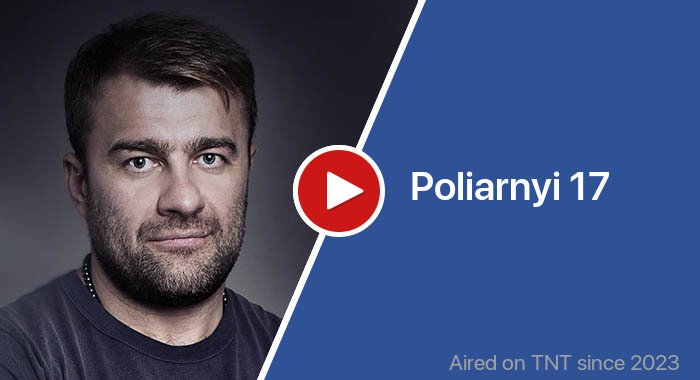 News about

Poliarnyi 17

tv series
The loud premiere of "Poliarnyi 17" from TNT channel left an indelible impression on the channel's viewers. Read our article to find out if the second season of the series with Mikhail Porechenkov in the leading role will be filmed.
Post discussion
Comments are closed, but will be back soon