Sick Note

release date

The British comedy of autumn 2017, created by director Matt Lipsy. Starring actor Rupert Grint, known to the audience as Harry Potter's best friend.

The main character, Daniel Glass, is an office mouse, a loser, and a liar. The guy languishes at a miserable job, lonely and unhappy. Every day he carries out the standard tasks of a clerk and is forced to listen to the reproaches of his boss, Kenny West, unable to defend himself or quit. Life is filled with disappointments, social injustice, and ridicule. To the dreadful picture of Glass's existence, an unfavorable diagnosis from a doctor is added: the young man is suffering from a terminal illness. The discomfort turned out to be esophageal cancer. After Daniel's sentence became known to everyone, pity, attention to the unfortunate, sympathy, and respectful attitude awakened in people. Everything that the young man had so desperately lacked, he receives at the twilight of his life. The relationships with those around him make him a complete person who refuses to die. However, the idyll cannot last forever. Fortunately, Glass becomes a victim of an inattentive doctor who mixed up the test results. Oncologist John Glennich made a fatal mistake that will cost him his license, and Daniel will lose his comfortable life. Both are determined to keep the secret, but how can they do it when the sick is healthy.
Release date of

Sick Note

TV Series
New episodes of the «Sick Note» series aired on Wednesdays 21:00 on «Sky Atlantic» channel. The specified air time corresponds to the country - United Kingdom. Eastern Daylight Time, the episode will be available same day.
Sick Note Season

2

- 1 Episode

Episode Number

Episode Name
Release Date
02x01

Season 2 Episode 1

06.11.2018
This season was aired

on Tuesday, November 6 at 21:00
Sick Note Season

1

- 6 Episodes

| Episode Number | Episode Name | | Release Date |
| --- | --- | --- | --- |
| 01x06 | Season 1 Episode 6 - Chicken Soup | | 12.12.2017 |
| 01x05 | Season 1 Episode 5 - Airplane Mode | | 05.12.2017 |
| 01x04 | Season 1 Episode 4 - The Golden Grain | | 28.11.2017 |
| 01x03 | Season 1 Episode 3 - Janina Kolkiewicz | | 21.11.2017 |
| 01x02 | Season 1 Episode 2 - Playing Ball | | 14.11.2017 |
| 01x01 | Season 1 Episode 1 - Queen of Hearts | | 07.11.2017 |
Sick Note TV Series trailer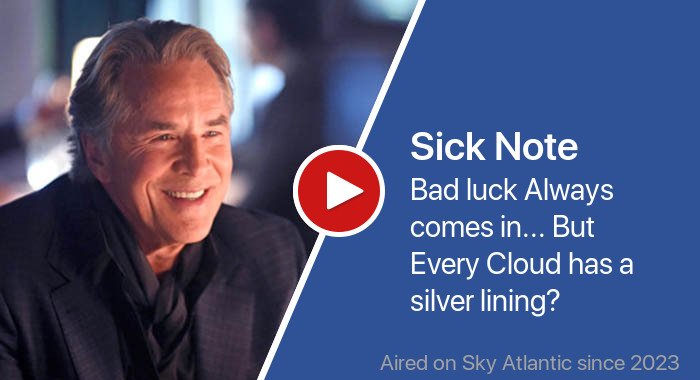 News about

Sick Note

tv series
Leading producer Sarah Fraizer announced the release of the second season of the TV series "Sick Note" in 2018. The project's director is Matt Lipsy ("Psychoville", "Jekyll").
Post discussion
Comments are closed, but will be back soon