Striking Out

release date

The Irish drama from "RTÉ One" premiered in January 2017. The song from the main musical theme is performed by the series director.

Tara Rafferty has something to be proud of in her years. Her position as a lawyer at a prestigious law firm brings in a stable income, and her upcoming marriage promises even greater prospects. The chosen one of the girl became the heir of the family that owns the company. Close friends, deciding to let the bride have a good time before the wedding, organize a bachelorette party. However, Tara, missing her fiancé, decided not to wait for the official end and left early, presenting her beloved with a pleasant surprise. Instead of the planned scenario, everything went downhill. The man was caught in bed with a colleague at the most intimate moment. Such a thing proved to be unforgivable for Tara. The engagement was called off, and the management received a resignation letter. The fragile beauty had to demonstrate her strength of character, rejecting the past. Together with her best friends, she opens her own business. Soon, the success of the small office, based in a restaurant space, is on the rise. Specialists dealing with family law successfully close divorce cases, competing with the most prestigious names in the Irish capital. The family of the ex does not become an exception, forcing the heroine to go to extreme measures.
Release date of

Striking Out

TV Series
New episodes of the «Striking Out» series aired every Sunday 21:35 on «RTE ONE» channel. The specified air time corresponds to the country - Ireland. Eastern Daylight Time, the episode will be available same day.
Striking Out Season

2

- 6 Episodes

| Episode Number | Episode Name | | Release Date |
| --- | --- | --- | --- |
| 02x06 | Season 2 Episode 6 - Episode 6 | | 11.02.2018 |
| 02x05 | Season 2 Episode 5 - Episode 5 | | 04.02.2018 |
| 02x04 | Season 2 Episode 4 - Episode 4 | | 28.01.2018 |
| 02x03 | Season 2 Episode 3 - Episode 3 | | 21.01.2018 |
| 02x02 | Season 2 Episode 2 - Episode 2 | | 14.01.2018 |
| 02x01 | Season 2 Episode 1 - Episode 1 | | 07.01.2018 |
Striking Out Season

1

- 4 Episodes

| Episode Number | Episode Name | | Release Date |
| --- | --- | --- | --- |
| 01x04 | Season 1 Episode 4 - Episode 4 | | 22.01.2017 |
| 01x03 | Season 1 Episode 3 - Episode 3 | | 15.01.2017 |
| 01x02 | Season 1 Episode 2 - Episode 2 | | 08.01.2017 |
| 01x01 | Season 1 Episode 1 - Episode 1 | | 01.01.2017 |
Striking Out TV Series trailer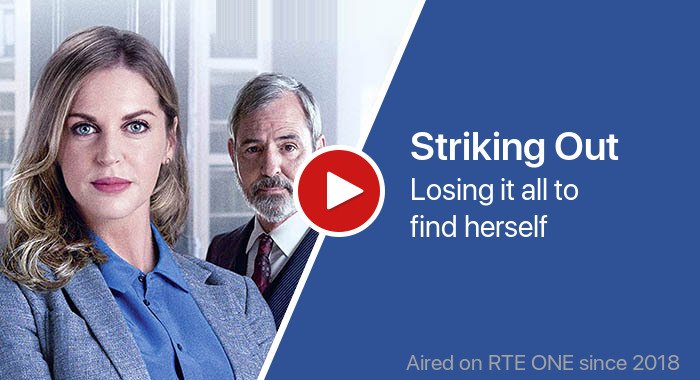 Post discussion
Comments are closed, but will be back soon