Trigger

release date

The dramatic series from the production company "Sreda" premiered on "Pervy Kanal" in 2018. The film was produced by one of the hosts of "Projector Paris Hilton".

Psychological consultations involve prolonged communication with the patient, based on the ability to listen. Sometimes, simply expressing accumulated emotions to a nodding specialist while sitting comfortably in a chair or on a soft couch is enough to solve the problem. The duration of treatment is determined by an impressive price list and the popularity of the profession. Nevertheless, some psychologists avoid the classical methodology. For example, Artem, who works in this lucrative field, hates listening to clients' daily complaints. He uses a different therapeutic approach, provoking already confused and desperate people. Mockeries and insults stimulate internal reassessment, shaping a new perspective on the situation. Provocative treatment has been yielding stunning results for several years in a row. However, the further prosperity of the business is now in danger. The news of a person's suicide, who stood out among the patients of this bold provocateur, bodes ill.
Release date of

Trigger

TV Series
New episodes of the «Trigger» series aired Monday to Thursday 21:00 on «Pervyi kanal» channel. The specified air time corresponds to the country - Russia. Eastern Daylight Time, the episode will be available same day.
Trigger Season

1

- 1 Episode

Episode Number

Episode Name
Release Date
01x01

Season 1 Episode 1

25.11.2019
This season was aired

on Monday, November 25 at 21:00
Trigger TV Series trailer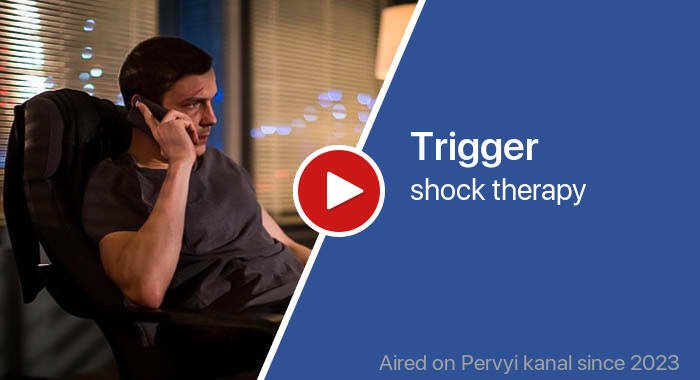 News about

Trigger

tv series
A representative of the production company "Sreda" has announced that the release of episodes of the second season of the TV series "Trigger" is expected in 2020.
Post discussion
Comments are closed, but will be back soon