Vitaly Shlappo, producer of the TV series "IP Pirogov", announced his intention to start broadcasting Season 4 on April 30, 2021.
The finale of the third part was shown to the viewers of the "Start" service at the end of 2020. The story is dedicated to a stunning beauty who had to start a new life after the betrayal of her loved one. The fourth part of the show will present a total of 20 episodes, which will be broadcasted both on the Start service and on the STS channel.
Season 4 Announcement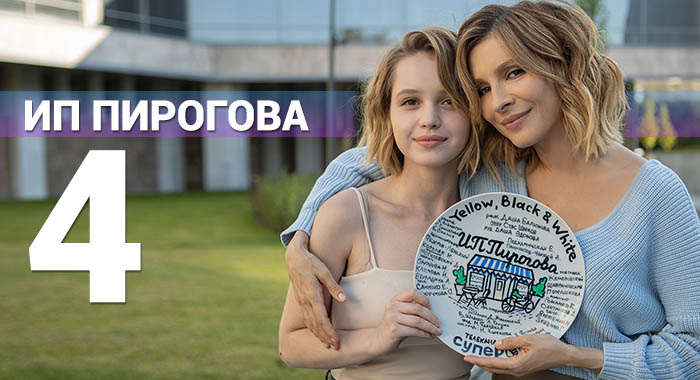 The new season brings serious changes to Vera's life. The confectionery business moves from Moscow to St. Petersburg, where she will work together with Denis on a new establishment. The bakery cafe will quickly thrive, but is this what she needs for a happy life? Meanwhile, Sasha is preparing for childbirth. But she is not afraid of the process itself, but of finding out who the child's father is.

For a long time, the charming girl named Vera was completely happy and thanked fate for her strong family. She tried to take care of her spouse and anticipate his desires. The lovely person did everything to please her better half and not annoy him in any way. She thought that her fiance reciprocated and protected her from life's hardships. Suddenly, she found out that her betrothed did not consider it necessary to remain faithful to her and had acquired a cute mistress. The truth shocked the unhappy woman so much that at first she did not understand how to proceed. Soon she realized that she couldn't continue living with a cheater under the same roof and kicked him out of the house. The main heroine decided to divorce the traitor and forget about his existence forever. She sincerely believed that she could live without her husband's financial support and earn bread on her own. The resourceful lady loved standing at the stove and baking various cakes. She organized a small business and hoped that it would bring desired dividends.
The main roles are played by: Elena Podkaminskaya, who starred in the films "Fatal Attraction" and "Return Ticket", Alexander Pankratov-Cherny, known for the feature films "Japanese God" and "Debt", Danila Dunayev, involved in the series "Girls Don't Give Up" and "Trigger", and other actors.
The premiere of the first season of the series took place in the autumn of 2018. 33 episodes were produced. The aspiring businesswoman hopes to become rich with the baking of cakes and other treats.
When will Season 4 of IP Pirogova be released
| Ep. number | Episode name | Release date |
| --- | --- | --- |
| 04x01 | Season 4 episode 1 | 30 April 2021 |
| 04x02 | Season 4 episode 2 | 30 April 2021 |
| 04x03 | Season 4 episode 3 | 30 April 2021 |
| 04x04 | Season 4 episode 4 | 07 May 2021 |
| 04x05 | Season 4 episode 5 | 07 May 2021 |
| 04x06 | Season 4 episode 6 | 14 May 2021 |
| 04x07 | Season 4 episode 7 | 14 May 2021 |
| 04x08 | Season 4 episode 8 | 17 May 2021 |
| 04x09 | Season 4 episode 9 | 18 May 2021 |
| 04x10 | Season 4 episode 10 | 19 May 2021 |
| 04x11 | Season 4 episode 11 | 20 May 2021 |
| 04x12 | Season 4 episode 12 | 24 May 2021 |
| 04x13 | Season 4 episode 13 | 25 May 2021 |