Avanpost (TV-3)

release date

Fantastic thriller from director Egor Baranov. Alexey Chadov, Svetlana Ivanova, and Pyotr Fyodorov took part in this project.

An unknown apocalypse is happening on our planet. Contrary to the predictions of politicians and economists, none of the states started a nuclear war. There wasn't a dangerous terrorist attack that would have led to significant destruction and general fear of the population. A giant asteroid did not fall on Earth, which would have destroyed half of the planet. Everything happened quietly and peacefully, but people became no less terrified because of it. Any communication between towns and villages was cut off. The power supply disappeared. Because of this, it became impossible to travel by planes, cars, or water transport. People were left without supplies, medicine, heating. In addition, an unidentified virus is literally mowing down the population. A state of emergency was declared. The remaining people decided to isolate themselves with the Line of Life. It is risky and dangerous to go beyond it. Part of Russia that was not affected by the strange virus ended up within the Line. The border is strictly guarded. A reconnaissance squad has been sent beyond its boundaries to find out all the circumstances of the terrible epidemic. The information they received shocks the group. The planet has been attacked by extraterrestrial organisms.
Release date of

Avanpost (TV-3)

TV Series
New episodes of the «Avanpost (TV-3)» series aired every Thursday 12:00 on «TV-3» channel. The specified air time corresponds to the country - Russia. Eastern Daylight Time, the episode will be available same day.
Avanpost (TV-3) Season

1

- 2 Episode

| Episode Number | Episode Name | | Release Date |
| --- | --- | --- | --- |
| 01x02 | Season 1 Episode 2 | | 22.11.2019 |
| 01x01 | Season 1 Episode 1 | | 21.11.2019 |
Avanpost (TV-3) TV Series trailer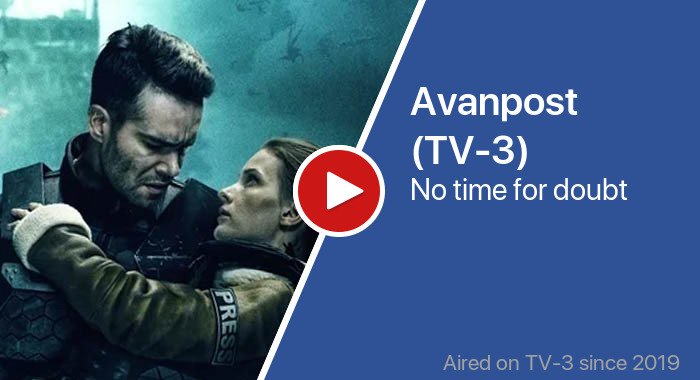 News about

Avanpost (TV-3)

tv series
Din Devlin, producer of the sci-fi drama "The Outpost," announced plans to showcase episodes of Season 4 in autumn 2021.
Post discussion
Comments are closed, but will be back soon