In early April 2016, the 6th season of the TV series "The Walking Dead" came to an end. In total, AMC released 16 episodes in this part of the zombie-apocalyptic story.
The creators of the series and the management of the AMC channel extended the show to a seventh season almost immediately after the premiere of the sixth season - October 30, 2015. The new part of the survival story in a world full of "walkers" will air from October 23, 2016, as was announced after the annual Comic Con festival. Just like before, you can expect 16 exciting episodes in which zombies will try to eliminate humanity once and for all. The filming of the new season will start on May 2, 2016, and as photos become available, we will add them to this article.
Photo shoot of the actors for Entertainment magazine
The plot of the series starts going in circles. The seemingly secure settlement of Alexandria is once again overrun by ubiquitous zombies. In addition, Negan, who appeared in the middle of the plot, his gang "The Saviors" take Rick Grimes' friends hostage. In order to survive, the former police officer will have to pick up his revolver again and dispense justice. In order to demonstrate his power at the end of the sixth season, Negan kills one of Rick's close friends with the "Lucille" bat, but who exactly can be seen only in October 2016. In the original comic by Darabont, Glenn is eliminated from the race for survival.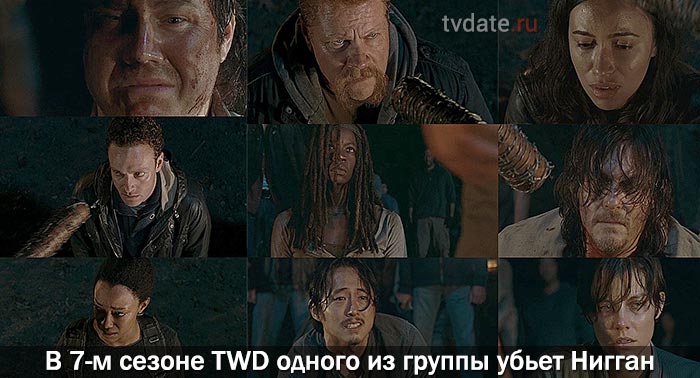 What will happen in Season 7
The new chapter of the story will unfold in the Hilltop community, where there are survivors in the tens more than they have seen before. But this also means greater responsibility - an armed bandit group collects tribute from the Alexandria community, half of all its possessions. The situation changes when Rick and his friends develop a plan for revenge for Negan's and "The Saviors'" committed killings, and fight against the collection of property and ammunition from the guys.
Shortly after the start of filming, the show's creators released exclusive shots showing fragments from the new chapter of the show:
The premiere of the seventh season of The Walking Dead series will take place on the cable channel AMC, as usual, on the second Sunday of October 2016. Stay tuned for news about the series on our website to stay informed about the plans of the creators of this legendary zombie show.
When will Season 7 of The Walking Dead be released
| Ep. number | Episode name | Release date |
| --- | --- | --- |
| 07x01 | | 23 October 2016 |
| 07x02 | | 30 October 2016 |
| 07x03 | | 06 November 2016 |
| 07x04 | Season 7 episode 4 | 13 November 2016 |
| 07x05 | Season 7 episode 5 | 20 November 2016 |
| 07x06 | Season 7 episode 6 | 27 November 2016 |
| 07x07 | Season 7 episode 7 | 04 December 2016 |
| 07x08 | Season 7 episode 8 | 11 December 2016 |
| 07x09 | | 12 February 2017 |
| 07x10 | | 19 February 2017 |
| 07x11 | | 26 February 2017 |
| 07x12 | | 05 March 2017 |
| 07x13 | | 12 March 2017 |
| 07x14 | | 19 March 2017 |
| 07x15 | | 26 March 2017 |
| 07x16 | | 02 April 2017 |