The continuation of FYZ show will be released in the spring, on March 20, 2017. Unfortunately, due to the financial crisis, the production of the show has been delayed. This also applies to the popular show "Физрук" from last year.
The entire first season literally captivated viewers from all corners of Russia with an excellent, unprecedented quality of plot and shooting for a domestic TV series.
What will happen in the second season
In the Law of the Stone Jungle, they told us the story of four guys who got involved in the criminal business over the course of eight episodes. Before they knew it, they found themselves in the center of the criminal circle: thefts, showdowns, fights, and murders.
The second season will begin with episode 9, which will reveal further details of Vadim's criminal life. In parallel, Gosha and his uncle will unravel the terrible secret of millions that was smuggled out during the second Chechen military campaign.
Rapper Gufi unwittingly turns from a mama's boy into the same kind of hooligan as his surroundings. His relationship with Lena becomes even more complicated when Tim finds out about Phillip's connection to his girlfriend.
Almost an orphan, Kostya Tsypakov becomes a real part of the criminal cell in southern Butovo. In reality, the beautiful life on the outside turns out to be ruthless and cruel to newcomers in the business. His path is full of blood and very unpleasant moments.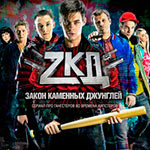 The ZKD series became a real discovery of 2015. Unlike its competitors, it became a Russian version of a symbiosis between "Brigada" and Quentin Tarantino films. The plot, saturated with mysteries and sharp turns, kept viewers engaged throughout eight episodes. Immediately after the premiere, the channel's audience began eagerly awaiting the continuation. Hopefully, the show's scriptwriter, Ilya Kulikov, won't disappoint and this time the audience will be treated to an equally worthy continuation. As the General Director of the channel, Dulerain, admits, the success of the multi-episode film was achieved through compromise with the plot's author - all conditions were created for him to "create", censorship was not heavily imposed.
The new season will not be longer than the premiere season - TNT plans to show only 8 episodes! The filming process, which took place in the Chertanovo district of Moscow, has already been completed. The premiere is planned for the spring season of 2017.
When will Season 2 of Zakon kamennykh dzhunglei be released
| Ep. number | Episode name | Release date |
| --- | --- | --- |
| 02x01 | | 20 March 2017 |
| 02x02 | | 21 March 2017 |
| 02x03 | | 22 March 2017 |
| 02x04 | | 23 March 2017 |
| 02x05 | | 27 March 2017 |
| 02x06 | | 28 March 2017 |
| 02x07 | | 29 March 2017 |
| 02x08 | | 30 March 2017 |